Suresh Raina has donned the role of a finisher to perfection in shorter formats of the game, and by his own admission he relishes batting at No 3 irrespective of whether he is playing for India or Chennai Super Kings.
"I love batting at No 3 as I can be positive and play my shots. When I scored a hundred against South Africa in West
Indies (in 2010 World T20), I batted at number three. I love to dominate bowlers," Raina said on Sunday.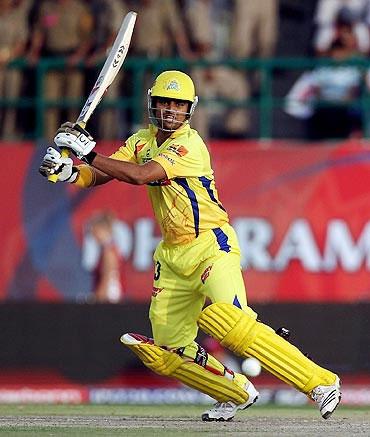 "You need to be focused and think about whom you need to take on. Luckily, I am batting well so hopefully in the coming matches I will do well."
Raina believes that a good set-up has been key to CSK's success in the last five editions of IPL.
"When you have succeeded in the last five editions, you need to maintain the consistency in your game… It is very important to win matches from difficult situations. We have a good set up and everyone wants to do well this season so I am really excited about this IPL."
For the UP left-hander, these are still early days in IPL.
"It is the start of the season. You need to maintain your commitment and maintain your discipline. Whoever gets tense will lose the battle. It is important to stay together and focus on each and every practice session and execute them to win matches," he said.
Chennai take on a struggling Pune Warriors on Monday and the left-handed batsman said they are not taking any side lightly due to the nature of the game.
"In this format you can't take any team lightly. You need to work hard, you need commitment," he said.
Asked if the team has any specific game plan for flamboyant left-hand batsman Yuvraj Singh, Raina said, "We need to get him early as he is a match-winner."
There were no surprises when Raina named his CSK and Team India captain as the "best finisher I have ever played with."
"If you look at his average 50 plus in One-day cricket and batting at number six or seven, that is unbelievable."
Raina said that he is ready to pick the brains of legendary West Indies batsman Brian Lara, who is coming to India next month.
"Lara is very easy to communicate with. He always had a plan ready when he went out to bat. I am looking forward towards meeting him in May."
He chose to play down the ugly spat between Gautam Gambhir and Virat Kohli terming it as something that can happen at the heat of the moment.
"They both are very good friends. Sometimes it happens," he said.
The UP captain has played a pivotal role in two of his statemates Ankit Rajpoot and Imtiyaz Ahmed bagging IPL contracts with Chennai Super Kings.
"Imtiyaz is a surprise package for us," he said.
© Copyright 2021 PTI. All rights reserved. Republication or redistribution of PTI content, including by framing or similar means, is expressly prohibited without the prior written consent.