Rajasthan Royals captain Rahul Dravid blasted Mumbai Indians' Keiron Pollard for his boorish celebration following his catch that dismissed Shane Watson, during the Indian Premier League match at the Wankhede stadium in Mumbai, on Wednesday.
Watson was caught at long-on off Pragyan Ojha, and Pollard, after taking the catch, ran all the way towards the batsman, who was walking back towards the pavilion, and celebrated wildly.
Dravid was livid with Pollard for his exaggarated send-off, terming it as "an act of cowardice", adding the batsman can hardly respond to such antics when he is heading back to the dressing room.
"One of the things I find that when you send off batsmen after you get them out, and I personally and that is my personal opinion, is that it is an act of cowardice because the batsman can never respond after you have got him out and you have sent him off. I think saying something on the field is part and parcel of the game; having a chat, a bit of banter while the game is on is fine, but my personal opinion is that you send a batsman off after you get him out is an act of cowardice," the Rajasthan captain said after the match.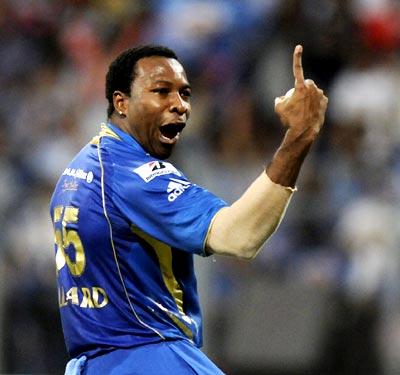 The veteran batsman was also unhappy with the way umpires Sudhir Asnani and Asad Rauf handled things in the middle as the Mumbai Indians fielders got into war of words with Watson and his other Rajasthan batsmen.
"I guess it was a competitive game. Things can get tough in a Twenty20 game, so these things can happen and I was not surprised. But I think it could have been managed a bit better in terms of the way I thought the umpires managed it; it could have been managed a lot better, but that is the way things are sometimes. Things can get heated in the middle," he said.
Dravid was also visibly angry at the umpire Asnani's decision to give him caught behind off Mitchell Johnson, whom he kept staring at as he made his way back.
"Firstly, I think it is all part and parcel of the game. In my career, and I have played a long time, I have been lucky as well when I have been out and given not out. I am a firm believer of that it all sort of evens out in the end; it is the rub of the green.
"At that point of time I was disappointed; you do feel disappointed, but as you cool down you realise that it is the beauty of this game, it happens. Some days you don't get the rub of the green and other days you do; so that is part and parcel of the game and I have no regrets about it," he said.
Meanwhile, Mumbai Indians captain Rohit Sharma defended Pollard's wild celebration, saying it was a normal reaction from the West Indian everytime he is involved in picking up a wicket.
"The match referee had called us after the game, but Pollard said this was his normal way of celebrating and he was not pointing to anyone," he said.
Photograph: BCCI