The first qualifier of the Indian Premier League, between Kings XI Punjab and Kolkata Knight Riders, has been postponed to Wednesday, 1600 IST.
With the Eden Gardens in Kolkata under ankle deep water following torrential rain over the last two days, the organisers were forced to put off Tuesday's fixture by a day.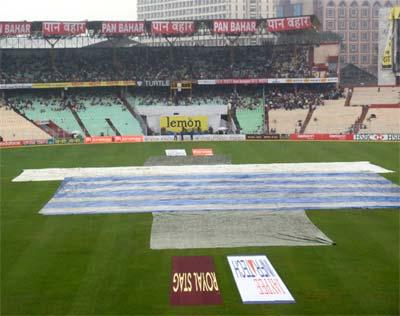 "Following the heavy rain in Kolkata over the last two days, the umpires made an early inspection of the ground at the Eden Gardens at 5:15pm and determined, after consultation with the curator, that there was no possibility of the ground being fit for play today.
"As a result therefore, the 2014 Pepsi IPL Qualifier 1 play-off match between Kings XI Punjab and Kolkata Knight Riders has been postponed to tomorrow, Wednesday 28 May, and is scheduled to start at 4:00 pm," read a statement from the IPL.
The organisers have kept a reserve day for all the play-off matches.
The Eliminator match between Mumbai Indians and Chennai Super Kings, at the Brabourne stadium in Mumbai on Wednesday will start at 2000 IST.
Eden curator Prabir Mukherjee is confident that the ground can be ready for Wednesday provided it doesn't pour any more.
"The wicket is in perfect condition, while the ground looks okay, with a few damp patches here and there. The match can be played if there is no further rain, Mukherjee said.
Since there were three spells of rain till noon the groundsmen could not remove the covers and carry out the damage control measures, especially around the damp zones.
"We were hoping for the rain to stop for two hours, which would be good enough to make it (the match) a five-over-a-side affair," Mukherjee said.
However, the fact that the whole field is under ankle deep water, despite it being fully covered, is something to be worried about.
The weather forecast has dampened the mood for the sell-out marquee clash, as the low pressure formation is likely to advance towards Kolkata and gradually "weaken in next 48 hours".
As per the playing conditions, a minimum of five-overs-a-side is required in case of a delay, while if the team batting second consumes more than five overs, a result is possible through Duckworth-Lewis method.
In the likely scenario of a wash-out, Kings XI Punjab will make the final without a ball being bowled as they are No 1 on the points table, and KKR second.
Photograph: Harish Kotian/Rediff.com