On recovery trail after a poor start to the tournament, King XI Punjab would be keen to keep up the momentum when they take on the floundering Rajasthan Royals in an IPL match in Mohali on Saturday.
On Wednesday, Kings XI pulled off a stunning victory over Royal Challengers Bangalore in the latter's backyard, a win that catapulted them to the top four teams leaving behind even defending champions Chennai Super Kings who have also suffered defeat at their hands in their own den.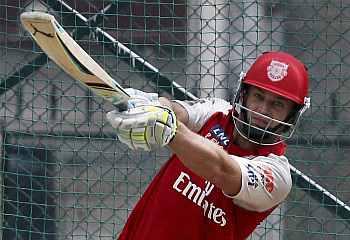 It has been a great feat for the franchise, which started with two successive defeats and a hamstring injury to their captain Adam Gilchrist even before the tournament had reached the midway stage.
Punjab have won five from 10 outings and have an upcoming game against struggling Deccan Chargers and table-toppers Delhi Daredevils. They will also be hoping to win on home turf when they meet Rajasthan on Saturday and correct their home record which has not been good this season.
Former Pakistani all-rounder Azhar Mahmood's presence in the side after his visa issue was resolved has meant that Punjab have struck the right balance.
The 37-year-old Mahmood, now a British national, seems to have infused new energy in the side, which looked down in the dumps at one stage.
The aggressive medium pacer has not only impressed with his wicket-taking abilities earning three scalps in the previous match and holding his nerve in crunch situations, but also made useful contributions with the bat.
Stand-in captain David Hussey's leadership has revived the sagging fortunes of the team and he has also struck some brilliant knocks making 255 runs in the tournament so far.
Under him, the team's fielding seems to have improved a lot.
Aussie left-hander Shaun Marsh and domestic player Mandeep Singh, who is the highest run getter for his team with 277 runs, have lent strength to Punjab's batting.
In the bowling department, medium pacer Praveen Kumar and find of this season Parvinder Awana have been doing a good job.
The skipper has also reposed his faith in leg-spinner Piyush Chawla, the highest wicket-taker for his side with 12 scalps so far. The captain backed him after his expensive over against Mumbai and Chawla has also responded making contributions with the bat as well.
Gilchrist had earlier heaped praise on medium pacer Praveen Kumar for doing a fine job of containment, though he has been unlucky not to get as many wickets.
The inclusion of Ryan Harris will further boost Punjab's bowling arsenal.
Meanwhile, Rajasthan Royals would be low on morale after suffering successive defeats at the hands of Delhi Daredevils.
They were undone by Virender Sehwag's heroics with the bat and young bowler Pawan Negi's sensational bowling effort in the previous game.
The Rahul Dravid-led side will be desperate to end the losing streak knowing well that another loss may almost shut the door on their chances of making the semi-finals.
Rajasthan have so far won just four out of 10 and are placed seventh in the points table. They will be hoping that Australia's prolific all-rounder Shane Watson, comes good on Sunday after his failure with the bat in last match.
Dravid and his opening partner and Ajinkya Rahane (458 runs so far including a century) lend strength to Rajasthan batting in the top order, but the middle order that includes Brag Hodge, Owais Shah and Ashok Menaria, will have to get their act together.
Watson and Pankaj Singh will also have to bowl their best if Rajasthan are to fancy their chances.
Squads:
Rajasthan Royals: Rahul Dravid (C), Siddharth Trivedi, Shane Watson, Shaun Tait, Dishant Yagnik, Paul Collingwood, S Sreesanth, Brad Hodge, Shreevats Goswami, Faiz Fazal, Samad Fallah, Aditya Dole, Kevon Cooper, Brad Hogg, Aakash Chopra, Ankeet Chavan, Dinesh Chandimal, Deepak Chahar, Johan Botha, Stuart Binny, Ashok Menaria, Sumit Narwal, Pankaj Singh, Pinal Shah, Owais Shah, Abhishek Raut, Ajinkya Rahane, Amit Singh, Amit Paunikar
Kings XI Punjab: Adam Gilchrist (C), Bipul Sharma, Paras Dogra, Harmeet Singh, Siddharth Chitnis, Love Ablish, Piyush Chawla, Amit Yadav, Parvinder Awana, Stuart Broad, Azhar Mahmood, Bhargav Bhatt, Ryan Harris, Vikramjeet Malik, Paul Valthaty, Sunny Singh, Shalabh Srivastava, Rajagopal Sathish, Nitin Saini, Nathan Rimmington, Abhishek Nayar, David Miller, Mandeep Singh, James Faulkner, Praveen Kumar, Shaun Marsh, Dimitri Mascarenhas, Ramesh Powar.