A Mumbai court extended the police remand of CSK team owner Gurunath Meiyappan, actor Vindoo Randhawa and two others arrested in the IPL betting case till June 3 after prosecution sought further custody to unravel their connection with absconding bookies.
Additional Metropolitan Magistrate A A Khan granted crime branch's plea for extending their remand rejecting defence counsel's contention that the offence they had been booked for were bailable and that they had already spent "sufficient time" in Mumbai Police's custody.
In its remand application, police said Meiyappan, son-in-law of BCCI president N Srinivasan, Vindoo, Alpesh Patel, a hawala operator, and Prem Taneja, a conduit for bookies, were needed to be interrogated further to know about the wanted bookies Sanjay Jaipur, Pawan Jaipur and Jupiter.
A crime branch team, it said, has been despatched to Goa to bring Paresh Batia, another bookie, who was in contact with some of the accused arrested in the case.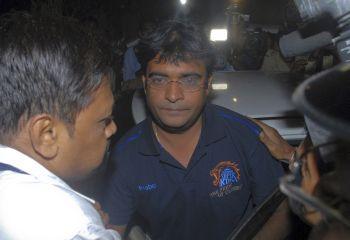 Meanwhile, Chennai hotelier Vikram Agarwal, known in the betting circles as Victor, today appeared before the crime branch to record his statement.
Agarwal, a friend of Meiyappan for the last 15 years, allegedly led the IPL betting syndicate in the southern city and was a crucial link between CSK team owner and Vindoo.
He was issued summons by the Mumbai Police to appear today and his statement is being recorded, sources in the crime branch said.
According to Himanshu Roy, Joint Commissioner (crime) Agarwal, owner of Radisson Blu hotel, is a "key link" between the betting syndicate and Bollywood celebrities.
Meiyappan, armed with privileged information as CSK's Team Principal, is alleged to have placed "huge bets" on IPL matches after fixing the game, including those involving the Chennai franchise. He is said to have lost Rs one crore through betting.
Meanwhile, Ashwin Agarwal alias Tinku Delhi, arrested by the special cell of Delhi Police, has been brought to the crime branch office for recording his statement. His interrogation is likely to shed light on the Pakistani connection to the betting racket, sources said.
According to sources, he is likely to be formally arrested by Mumbai Police in connection with the betting case being probed by it and produced before a court for seeking his remand.
Photograph: Reuters