The Special Cell of the Delhi police which is investigating the IPL spot fixing case has found that all the three players were threatened by the bookies.
The interrogation of three bookies which was done in the presence of the players revealed that they had threatened the players if the offer was not accepted.
The bookies said that the stakes this time were extremely high and hence they had to resort to threats in order to convince the players.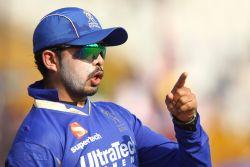 The bookies said that Chandila had initially agreed but backed off which forced them to threaten him. However the threat factor was not spoken so much in the case of Sreesanth.
Delhi police sources tell rediff.com that they are investigating the matter.
The call transcripts suggest that the players had been threatened and this was typical of underworld behaviour.
The underworld links is something that is being probed and the help of the Research and Analysis Wing and the Intelligence Bureau is being sought.
Photograph: BCCI