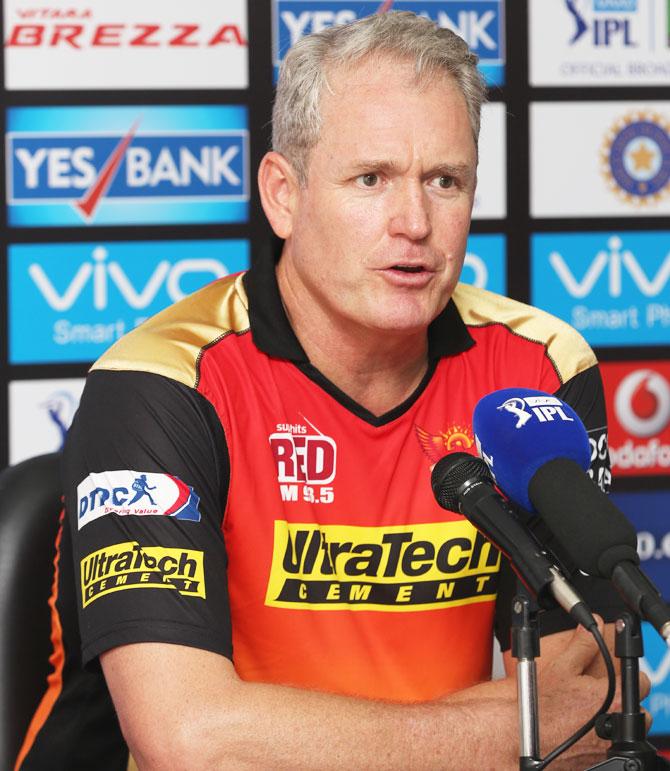 IMAGE: Hyderabad coach Tom Moody at a press conference. Photograph: BCCI
Expressing disappointment over his team's second consecutive loss in the Indian Premier League on Saturday, Sunrisers Hyderabad coach Tom Moody said they would reflect on the performance and try to turn around the fortunes quickly.
- IPL PHOTOS: Gambhir, Yadav help Kolkata ease past Hyderabad
Brilliant bowling by the pace duo of Umesh Yadav and Morne Morkel, followed by skipper Gautam Gambhir's superb half-century, powered Kolkata Knight Riders to a comprehensive eight-wicket win over Sunrisers Hyderabad.
"There are a few areas we need to address. But as I said, this is two games into the tournament. We need to reflect and learn and build from areas we are falling down. But still, I am very positive. We can turn around this quickly. We have seen that in previous seasons, the Mumbai Indians last year," Moody told reporters.
He said it was difficult for the team to come back into the game after losing three wickets in the early phase of the innings.
"As we have seen, not just this season but throughout the history of T20, if you lose three wickets in that early phase, it's very, very difficult to come back and be competitive on a good wicket. Yes, it was a surface that was a little bit unpredictable with returning or uneven, it's a different story. But, today was a good batting surface and we missed the opportunity," he said.
He, however, appreciated Eoin Morgan and Naman Ojha for their fight.
"Credit to Eoin Morgan and Naman Ojha, the way they fought and built a partnership which gathered a total, at least we could try and compete in the second part of the game," he said.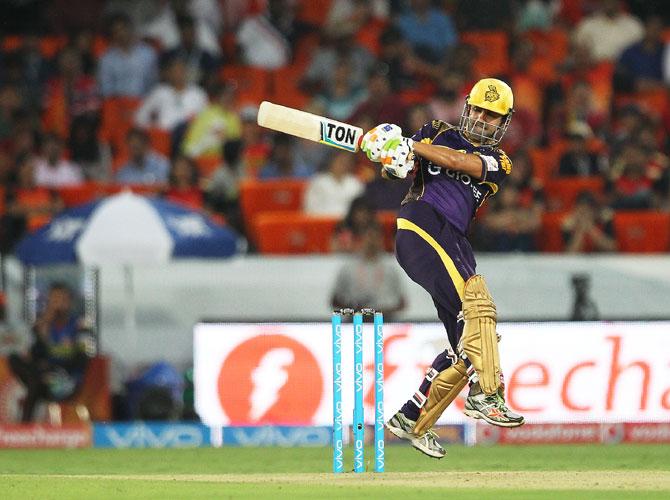 IMAGE: KKR captain Gautam Gambhir plays a shot. Photograph: BCCI
Meanwhile, KKR's Suryakumar Yadav credited captain Gambhir for his leadership.
"You cannot say much about it. He has been doing the same thing again and again for KKR. The way he has been training this year, of course, he has been training good since last year. But, this year, he has been doing something different, of course. Trying to take the side through to till the last over and bailing the side out. That's the good thing about him," he said.
He also said the team wanted to let fast bowlers do the job initially as it was a good batting wicket and that seasoned spin bowler Sunil Narine would also be used in Powerplay in the coming matches.
"Seeing the wicket, I think it was a good batting wicket in the beginning. So, we thought let the fast bowlers bowl a few overs in the beginning and once the ball gets old, if there is anything for spinners, then we will try. That's why we thought about bowling him (Narine) later. In the coming matches, you will see him bowling back again in the Powerplay as well," Yadav said.