In the wake of controversy over spot-fixing in IPL matches, the Sports Ministry has started holding consultations with the Law Ministry to draft a new law to deal with betting in sports.
"Yes, I talked to (Sports Minister) Jitendra Singh.... We will soon draft a new law to deal with the malice of betting," Law Minister Kapil Sibal said on Sunday.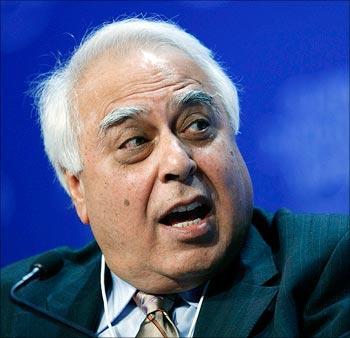 He said the confidence of the people in sports is shattered when such controversies erupt.
While people think whatever is happening in the field is in the interest of the game, facts turn out to be otherwise, the Minister said.
The Indian Premier League was dealt a massive blow when Special Cell of Delhi police arrested pacer S Sreesanth and his Rajasthan Royals teammates -- Ajit Chandila and Ankeet Chavan -- on Thursday for allegedly indulging in spot-fixing in at least three IPL matches as per arrangements with bookies who are suspected to have underworld connections abroad.
Delhi Police on Sunday arrested three more in the spot-fixing scandal including a former Ranji player.
The police have asked hotels in Mumbai, Chandigarh, Kolkata and Hyderabad to provide CCTV footage to scan meetings of the three arrested cricketers with bookies.
Police are also planning to seek permission for collecting voice samples of the players.
Photograph: Pascal Lauener/Reuters
Also Read
-BCCI should agree to come under RTI: Maken
-Spot-fixing probe: Delhi Police seeks CCTV footage from hotels
-Honey trap: Bookies shot videos of tainted trio with women