While he relished the big wicket of Sachin Tendulkar on the senior batsman's 40th birthday, Kolkata Knight Riders mystery spinner Sunil Narine admits that the defending champions will have to get their acts together quickly to keep alive their hopes in Pepsi IPL 6.
-PHOTOS: Gayle celebrates 'Gangnam style' at IPL!
-IPL PHOTOS: Kolkata Knight Riders vs Mumbai Indians
-PHOTOS: Kolkata celebrates Tendulkar's birthday at Eden
Narine came out victorious in the much-anticipated battle against Tendulkar on Wednesday night by crashing through the senior batsman's gate with a classic off-spin delivery, but eventually his side ended up on the losing side as the Knight Riders slumped to its fifth defeat in the tournament from seven outings.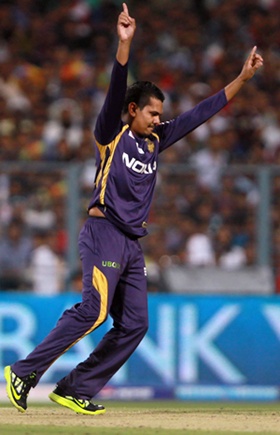 "Getting Sachin out is a great. But you have to focus on everybody and hopefully we can come out with a win. It's frustrating for everyone, losing is not a good thing," Narine said.
"You really want to win close games such as this, but it was not our game. Probably we'll have to concentrate harder. We will see if we can come off it. We have to adapt quicker than what we are doing right now," he said.
Jacques Kallis twisted his right knee and could not turn up in the second half in their defence of 160, and Narine said the veteran South African's absence while bowling turned the match against them.
"Kallis is a world class bowler. Missing him in the middle is a lot. If we had him, it would have been a different result," he said.
"160 was a defendable total any day. We just fumbled at the end. That's how cricket goes. We just have to lift ourselves up and be ready for our next game.
"We got a good start but we could not capitalise as we wanted to do. That's how cricket goes," Narine said.
But Narine said the Kinght Riders are optimistic of turning things around with nine more games to go.
"Once we get our act together, there is always a chance to qualify. You always want to win at home. It did not work this time, so we'll have to take the advantage outside," he added.
Photograph: BCCI
© Copyright 2021 PTI. All rights reserved. Republication or redistribution of PTI content, including by framing or similar means, is expressly prohibited without the prior written consent.