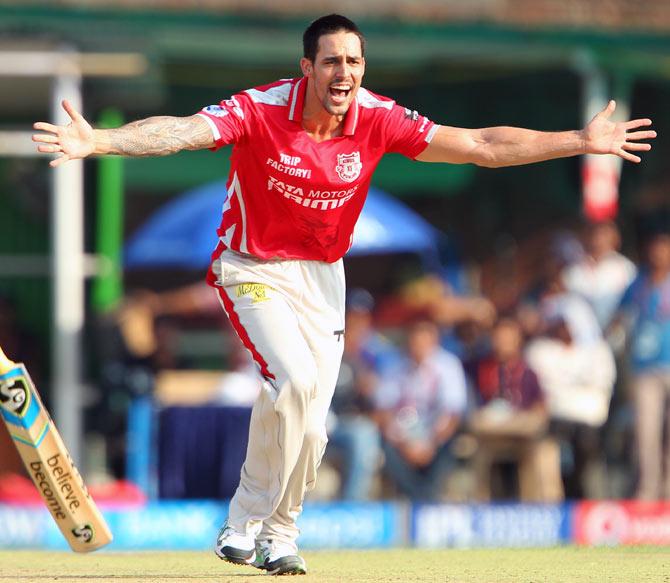 Kings XI pacer Mitchell Johnson during the seventh edition of the Indian Premier League. Photograph: BCCI
After playing a crucial role in Australia's World Cup triumph, Mitchell Johnson now has his sights trained on the challenge of bowling to the fearsome AB de Villiers when Kings XI Punjab take on Royal Challengers Bangalore in the eighth edition of the Indian Premier League.
Johnson, who will again spearhead the Kings XI attack, rates De Villiers as the "best batsman across most formats" and a formidable opponent.
"I think the most difficult batsman to bowl to is AB de Villiers. He has been quite incredible in the last two years. He has excelled as the best player across most formats. For me it has always been a challenge to bowl to AB and a lot of guys love the challenge of bowling to him.
"Having said that, any quality batsman can have a good day in the T20 format," Johnson, who resumed training on Tuesday, said during an interaction.
He was all praise for Kings XI's young Indian pacers, Sandeep Sharma and Shardul Thakur, saying the duo impressed him with their eagerness "to learn" the art of fast bowling.
"I played with Sandeep last year. It's great to work with him, as he keeps getting better and better. I saw Sandeep yesterday at the nets. He got some good pace going," said the left-arm speedster.
"What I like about Sandeep is that he is an easy guy to work with. He listens to what I am saying as I find it important for a youngster to be able to listen to what a senior guy is saying. I am also impressed with new guy Shardul," added Johnson, who has 283 Test wickets, 239 ODI scalps apart from 38 T20 victims.
For one of world's fastest bowlers, it is important to "talk to the youngsters and play a leading role" during the upcoming seven weeks of cash-rich Twenty 20 league.
Kings XI pacer Sandeep Sharma (right) celebrates with teammates after claiming a wicket in the seventh edition of the IPL. Photograph: BCCI
Sandeep Sharma Johnson feels that there's not much difference between bowling in ODIs and T20 cricket as "one format rolls into another" with the amount of international cricket that's played these days.
"I don't think there would be any change of plans while switching from ODIs to T20 format. If you see, we played World Cup final a week ago and now we will be playing in the IPL and once it's over, we will be switching to Test cricket in the West Indies. So it's one format rolled into another. One needs to adjust very fast."
For him, "pace is important", as it can unsettle the best of batsmen if bowled in right areas.
"I think if you are able to bowl 140 kmph-plus and pitch it in right areas, it will be difficult for any batsman to face that type of delivery. Well the game has become fast and a lot of runs are being scored.
"In these scenarios, a fast bowler needs to be smart and have a lot of change-ups. He should be able to bowl the yorkers. In the end, it's all about adapting to conditions," said the tearaway quick, who took 15 wickets in nine World Cup games.
The World Cup witnessed totals of 300-plus many a time and Johnson is of the opinion that there will be more 200-plus scores in this edition of IPL.
"I believe that there will be more exciting games this time with a bigger number of 200-plus totals. But one can't underestimate the bowlers as they have become smarter."
Johnson smashed a quick-fire 9-ball-27 against India in the World Cup semi-final and he is "proud" that he was able to contribute with the willow.
"I always work on my batting. We tail-enders worked on our batting and I am proud of that. I believe I was trying to do my job (vs India) lower down the order. I always play my natural game. Some days it works, and some days, it doesn't," said Johnson.