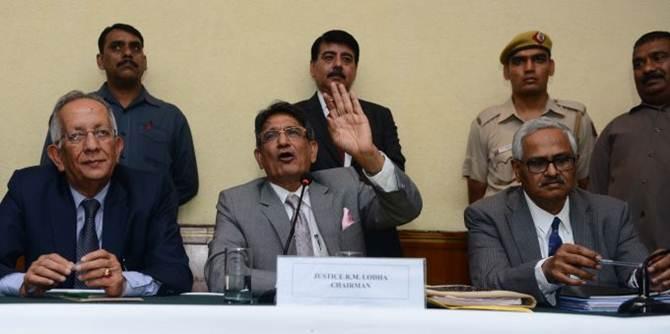 IMAGE: Chairman of the Supreme Court-appointed committee for reforms in Indian cricket Justice Rajendra Mal Lodha is flanked by Justice Ashok Bhan (left) and Justice R V Raveendran at a press conference. Photograph: PTI
A marathon session of over a dozen hearings on implementation of Justice Rajendra Mal Lodha panel recommendations on structural reforms in the Board of Control for Cricket in India came to an end on Wednesday in the Supreme Court, which took the Indian cricket board to task over issues like fund utilisation and avoiding of performance audits.
However, the Supreme Court reserved its order on the BCCI's plea in the case concerning implementation of the Lodha Committee recommendations. The judgment is likely within three weeks.

The apex court made critical remarks on the issue of fund allocation and utilisation after it was told that office-bearers of Goa Cricket Association, which in the last five years had received Rs 141 crore from BCCI, were recently arrested on charges of misappropriation.
- Report of Lodha Committee on Reforms in Cricket - Final Report, Volume 1
- Report of Lodha Committee on Reforms in Cricket - Final Report, Volume 2

Amicus curiae and senior advocate Gopal Subramaniam not only briefed a bench of Chief Justice T S Thakur and Justice F M I Kalifulla about the arrest of the president, secretary and treasurer of the Goa Cricket Association, but also spoke about the affairs of other boards like Saurashtra Cricket Association and the Delhi and District Cricket Association (DDCA).

While he was making the submissions, senior advocate Nalini Chidambram, appearing for Cricket Association of Bihar whose secretary Aditya Verma has approached the apex court, trained the guns on the newly-appointed BCCI president Anurag Thakur, claiming he was facing three criminal cases and has been elected to head the cash-rich sports body.

Subramanian supported Chidambram's submissions saying that the Lodha committee had said if any person is chargesheeted, it is a serious issue and he should be kept away from the affairs of the sports body.

He said the affairs of cricket of Saurashtra Cricket Association was such that not only its members, but people associated with it like drivers, servants and children were the members of the association.

Subramaniam also touched upon the messy affairs of DDCA, saying a postal address from Shakur Basti in North West Delhi showed it was a 48 square meter area, but it had 14 members of the association.

"How many members can live in 48 square metres? But from one such address, there are 14 members in the DDCA," he said adding that even sham bills were created for payments and contractors not paid for work done at Feroz Shah Kotla stadium in New Delhi.

Subramaniam further said that the state of affairs in Ferozshah Kotla stadium was such that seats for children or the disabled were not available.

This was referred to in the report of Justice Mukul Mudgal who was appointed by Delhi High Court as an observer to look after the affairs during India-South Africa Test match and IPL matches.

The bench then asked senior advocate K K Venugopal, who appeared for BCCI, as to why no utilisation certificates were sought from the state cricket associations who were allocated funds.

"Now since May 10, you have been seeking utilisation certificates but what happened before that? Why were you sleeping all these years? Why were utilisation certifications not sought? You were disbursing funds without the utilisation certificates," the bench said adding that there should be some mechanism for monitoring and allocation of funds.

Venugopal said BCCI is trying to implement the Lodha panel recomendations one by one and those associations and action has been taken against those office bearers who were found to be indulging in irregularities.

"We have taken appropriate actions against Goa, Bihar, Jammu and Kashmir and North Eastern states and funds have been stopped," Venugopal said.

To this, the bench asked "is stopping of funds an appropriate action? Why would the players and game suffer due to the actions of some? If you stop the funds, the game will not flourish," the bench, while reserving the orders on the matter the hearing of which stretched from the month of March.

"You must ask your auditors to go into the aspects of utilisation of funds by each state association. Take instructions and inform whether they have been asked to conduct performance audit. Some amounts must have been spent and some amounts must have been misappropriated," the bench observed.

Shortly thereafter, Venugopal said an affidavit would be filed on the issue of performance audit and added that auditors have been tasked to do performance audit since 2015.

BCCI has been averse to some of the recommendations of Lodha led-panel and has objected to suggestions like one state-one vote, age and tenure cap on office-bearers and CAG nominee on its board.

The apex court-appointed Lodha Committee had on January 4 recommended sweeping reforms and an administrative shake-up at the troubled BCCI, suggesting that ministers be barred from occupying positions, a cap put on the age and tenure of the office-bearers and legalisation of betting.

State cricket associations, former players Kirti Azad, Bishen Singh Bedi, cricket administrators have approached the apex court with regard to the implementation of Lodha panel recommendations in BCCI.

In a series of drastic recommendations, the three-member Justice Lodha panel, also comprising former apex court judges -- Ashok Bhan and R V Raveendran-- had suggested that one unit should represent only one state, while taking away the voting rights of institutional and city-based units.

It suggested restructuring of the BCCI's administrative set-up and proposed a CEO to run daily affairs of the Board who will be accountable to a nine-member apex council.

Among the most sensational suggestions of the Lodha panel was the one on legalising betting. It felt that the move would help curb corruption in the game and recommended that except for players and officials, people should be allowed to place bets on registered websites.

Among other steps, the panel said that to ensure transparency in BCCI's functioning, it was important to bring the body under the purview of the RTI Act, something that the Board has vehemently opposed in the past citing autonomy.