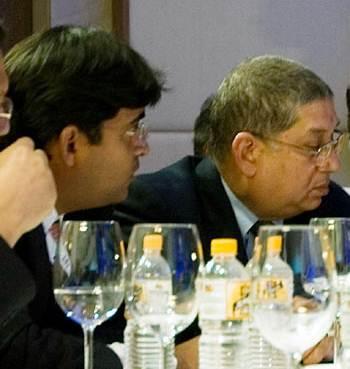 Former Indian Premier League chairman Lalit Modi's lawyer Mehmood Abdi has been asked by the Supreme Court-appointed Justice Mukul Mudgal Committee, probing match-fixing allegations in the cash-rich tournament, to appear before it in New Delhi on Thursday morning.
Abdi had filed certain inputs with the Justice Mudgal Committee after it called for all concerned to provide information/inputs of alleged betting and match-fixing, read a statement issued on his behalf on Wednesday.
"In his statement filed with the Committee he sought to explain the role of Gurunath Mayyapan as team owner who was issued accreditation/appointment etc. by the BCCI/IPL in the capacity as the owner/principal of the Chennai Super Kings - an IPL Team - and he also relied upon documentary evidence from the BCCI records to this effect," said the statement.
"Abdi also stated in his input statement to Justice Mudgal Committee that how key personnel employed with the BCCI/IPL are also employed with the India Cements and showed as to how Mr N Srinivasan and India Cements Ltd had all pervasive control on the BCCI/IPL.
"By virtue of his control Mr Srinivasan appointed umpires for the matches and as such he was in a position to influence the outcome of the match played by the BCCI/IPL. He sought to rely on BCCI's records wherein it has been proved that Mr N Srinivasan by by-passing the authority of the Umpire committee himself appointed the umpires of his choice.
"He also relied on FIR No. 269 of 2013 filed at Jyotinagar Police Station, Jaipur wherein the fixing of the match played between Rajasthan Royals and Chennai Super Kings on 12.5.2013 has been alleged and is under investigation by the Rajasthan Police," the statement added.
Abdi is also the president of the Sri Ganga Nagar District Cricket Association of Rajasthan.
Image: N Srinivasan, right, with son-in-law Gurunath Meiyappan at the 2010 IPL Players Auction in Mumbai
Photograph: Ritam Banerjee/Getty Images