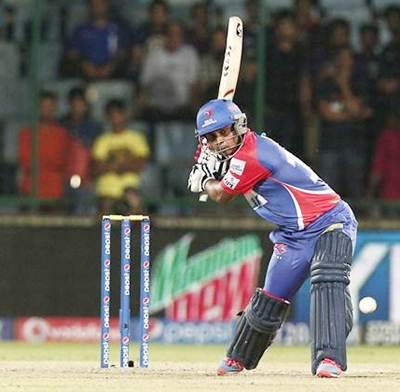 Batsman Kedar Jadhav has joined Royal Challengers Bangalore from Delhi Daredevils ahead of the 2016 Indian Premier League season.
"Royal Challengers Bangalore has acquired the services of Delhi Daredevils' batsman Kedar Jhadav for Indian Premier League 2016," read a statement from the Board of Control for Cricket in India.
- Dhoni, Ashwin, Steve Smith for Pune; Raina, Jadeja, McCullum for Rajkot
"The first Trading Window for the IPL 2016, which was open from Tuesday, 15 December 2015, to Thursday, 31 December 2015, saw the first trade of the season," it added.
Jadhav, who made his India debut on the tour of Zimbabwe in July, has played four ODIs and a couple of T20 Internationals.
IPL chairman Rajeev Shukla said: "RCB, who boast of a star-studded batting line-up with the likes of Virat Kohli, Chris Gayle and AB de Villiers, have added more fire-power to their batting by acquiring Kedar Jhadav. All eyes will now be on the auction, where more outstanding cricketers will be up for grabs."
Royal Challengers Bangalore team owner Vijay Mallya added: "RCB are very pleased to have acquired Kedar Jadhav who, we believe, has the potential to change the course of a T20 game with his finishing talent with the bat. Kedar will add tremendous value to our middle-order and will complement our existing line-up."
The IPL will be played from April 9 to May 29.
Image: Kedar Jadhav in Delhi Daredevils colours
Photograph: BCCI