Chennai Super Kings coach Stephen Fleming on Saturday said wicketkeeper-batsman Wriddhiman Saha is carrying injuries and his fitness will be assessed before the Pepsi Indian Premier League game against Mumbai Indians at the Wankhede Stadium in Mumbai on Sunday.
-Mumbai Indians fret over Pollard's fitness
"He is carrying a little bit of an injury, so whether (Murali) Vijay comes back in would depend on Saha's fitness now," he said.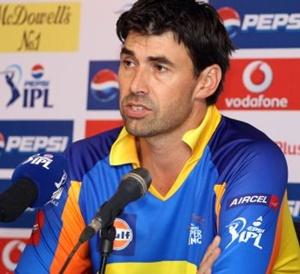 Fleming, who did not specify the nature of Saha's injury, explained that Vijay had hurt his finger and that was the reason he was not included in the playing XI in the last three games.
"He hurt his finger and we thought it was broken at that time and he played for a game or so with a lot of discomfort. We felt it was better for him to have a period of time out as he did, and give the finger a chance to rest. In the meantime, another good player in Saha took this opportunity, and that is the nature of IPL. Saha was in good form and it is his place at the moment," the New Zealander said.
Vijay was picked in the 15-member Indian squad for next month's ICC Champions Trophy, scheduled to be held in England, and Fleming said the IPL has no bearing on a player's selection.
"The IPL selections have no real bearing on internationals. So don't think that you can look at the form during an IPL as huge bearing on the talents of a player or the role that he plays for his country. It is pretty much a snapshot, here and now, to get the job done (seeing) who is in form, who is not.
"What we have done in the past has been very conservative selection policy and we will continue to do that. In this instance, Vijay was hurt and Saha took his opportunity," the former Kiwi captain added while replying to a question on how Vijay has found a place in the Indian squad after losing his spot in the CSK's playing XI.
Fleming also praised Haryana medium-pacer Mohit Sharma, who has been impressive with 11 scalps in eight matches at an average of 14.81, and said he has been a find for them.
"We saw four of these guys. We got four new seamers that joined us. And they are all very talented. Mohit Sharma, with his attitude and demeanour, is a very nice guy, very calm guy and that fits in well with the way we operate.
"His performances, I won't say has exceeded, but they are at a level where we are happy with what he has done. I think he is talented. He is a pretty good all-rounder as well, he just doesn't get the opportunity (to bat) in the side. But his fielding and bowling to date have been really important to our success. He has been a good find," said Fleming.
Chennai are leading the table with 18 points from 11 matches and have come up with a IPL record-equalling seven-match winning streak.
Fleming said it has been a good run but the side was not complacent.
He added that the team, led astutely by Mahendra Singh Dhoni, has been constantly making subtle fielding changes in order to give them an edge.
"I have noticed some real subtle changes in the last two or three games that we played. If you look at some of our fields that have been set, they have been quite different, subtle, but really different. I can tell you we are finding the right fields for different bowlers at certain stages of the match.
"I think there are still areas to move, there are still areas to explore and (we have) got a captain that is willing to explore. Some of them, we didn't even know existed, come up with our captain, so it keeps you on your toes and as soon as you stop being innovative then you fall behind.
"We are working very hard to try and find that edge and make sure that our fields reflect the tactics we try and use. It is a lot more subtle than what it was two to three years ago," he said.
Mumbai have been dominant at home and Fleming said the two teams have been involved in quite a few close matches.
Photograph: BCCI