It is not easy to be out of match practice for 10 months especially when one is on the wrong side of 40 and by his own admission former India captain Rahul Dravid was a "bit nervous" at the start of his innings during Rajasthan Royals' Pepsi IPL match against Delhi Daredevils in New Delhi on Saturday.
"Probably I did not expect to be batting for so long," Dravid grinned during the post-match media interaction as he was asked about his knock of 65 at the Feroze Shah Kotla.
"I have not played an IPL game since last May. It has been almost 10 months and although you practice a lot, you don't know what to expect. I was really nervous and worried at the start of my innings.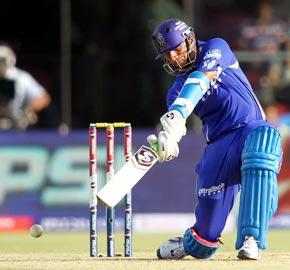 "But as the innings progressed, it felt comfortable and it was one of those days when it clicked for me. This innings gives me confidence as it is nice to do it early. I hope that I keep doing this more often," Dravid said.
The 40-year-old did pull a calf muscle and did not field for the better part of Delhi run chase but he assured that he would try his best to play against Kolkata Knight Riders in another two days from now.
"It was severe bout of cramps. I will do everything to play the next match but I need to see that how I get up tomorrow and if there's any stiffness," he said.
The batting legend praised both young Rahul Shukla and Kevon Cooper for holding their nerves at the death.
"They both were brilliant. Had Rahul Shukla not bowled that 19th over, then Kevon would not have got a chance to defend those runs. And look at the batsmen, he bowled to. Russell, Irfan, Botha are all big hitters," Dravid said.
"We also had Sreesanth bowling brilliantly upfront. Also Brad Hodge effecting a brilliant run-out which became the game-changer. Ajinkya took an incredible catch."
Photograph: BCCI