Australian Test batsman David Warner was reportedly enraged by a picture linking him to spot-fixing suspect S Sreesanth in an article by journalist Robert Craddock which led him to insult Craddock and his co-scribe Malcolm Conn on Twitter.
The article was about corruption in the Indian Premier League (IPL).
- Australia to investigate Warner's twitter rant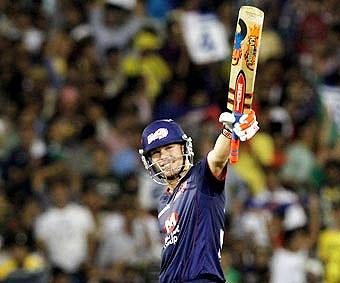 An early morning text message from a friend in Australia is believed to have sparked the Twitter tirade from Warner that has resulted in the opener being reported by Cricket Australia (CA) for an alleged breach of the body's code of behaviour, the Sydney Morning Herald reports.
The report said that Warner was more annoyed with his image being used for such a story rather than the content of the piece, which highlighted the seedier aspects of the Twenty20 tournament, adding that he was not out partying or consuming alcohol during the Twitter rant.
According to the report, although Warner's version of events will not absolve him of blame, it will, however, provide an explanation for his Twitter outburst, although his defence will dismiss suggestions that his Twitter account may have been hacked.
The report also said that although Warner will have to face a CA hearing to answer a charge of ''unbecoming behaviour'' and is expected to receive either a reprimand or fine, it is unlikely his place in Australia's touring party for the Ashes will be in doubt in view of his impressive form and attitude in recent weeks.
The opener is due to arrive back in Sydney early this week before flying out to England on the weekend or Monday with the rest of Australia's ICC Champions Trophy squad for next month's ODI tournament, the report added.