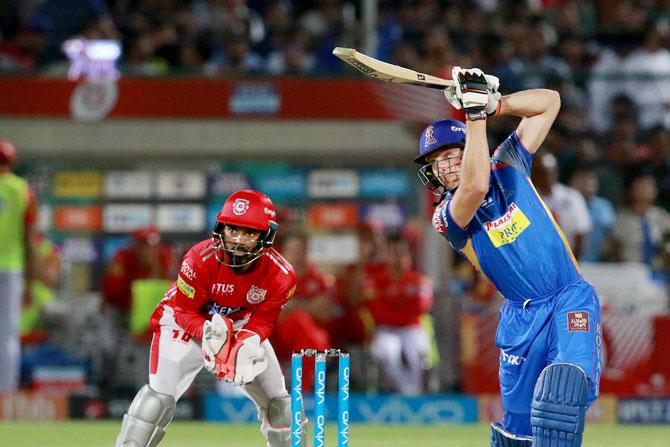 England and Wales Cricket Board (ECB) stand-in director Andy Flower says participation in the Indian Premier League hinders many "growth opportunities" for the country's players in first-class cricket.
As many as 12 England players, including Ben Stokes, Chris Woakes and Jos Buttler, featured in this year's IPL.
"The ECB position, at the moment, is to allow some of our best players to go to the IPL. And a lot of people will say things have thankfully moved on from the time I made my decisions around subjects like the IPL," Flower was quoted as saying by ESPNCricinfo.
When he was the England coach, Flower was often skeptical of English players' participation in the IPL at the expense of their performance in Test cricket, which put him at loggerheads with stars such as Kevin Pietersen.
Flower said, "(By playing in the IPL) They do miss out on some really excellent growth opportunities in first-class cricket for their counties. There is no doubt about that.
"But the understanding at the moment is that they are growing in other ways, playing under a lot of pressure, in front of big crowds and among some of the best players in the world at the IPL."
Flower, who is standing in for Andrew Strauss as England team director, feels the domestic programme has to improve if England were to produce players better prepared for international cricket.
The former Zimbabwe captain said, "We want to, ideally, recreate international conditions in our domestic cricket. If you have proper international conditions, there's an imperative for fast bowling rather than the little seamers that dominate the (county) game and good quality spin bowling.
"You get the consequent benefit of batsmen facing that bowling. There is a review of the structure and that might change. That window - for T20 cricket - is five weeks from the last week of July.
"There's a lot of great cricketing time either side of it. And it's about what they play up to that last week in July. Those decisions are yet to be made."
© Copyright 2022 PTI. All rights reserved. Republication or redistribution of PTI content, including by framing or similar means, is expressly prohibited without the prior written consent.