Shirke raises termination issue, doesn't find support
'Members were of the opinion that such a big decision cannot be taken in haste'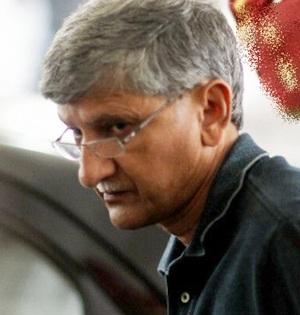 The much-debated termination issue of the suspended Indian Premier League franchises Chennai Super Kings and Rajasthan Royals did not find many takers during the IPL Governing Council meeting in Mumbai on Sunday with the exception of former Board of Control for Cricket in India treasurer and GC member Ajay Shirke.
BCCI accepts Lodha verdict, forms working group to reform IPL
While the decision on the way forward and implementation of the Justice Lodha Committee's recommendations will be taken by the soon-to-be-formed 'Working Group', majority of the members were of the opinion that "such a big decision cannot be taken in haste".
"Ajay (Shirke) was the only person who seemed to be in favour of termination of the two franchises. When he mooted the option of termination, BCCI's legal cell head Usha Nath Banerjee told him that while that is an option but the far reaching legal ramifications of such a decision should also be kept in mind," a senior Governing Council member said.
"In fact, most of the members are of the opinion that once Justice Lodha Committee has already declared a two-year suspension, BCCI should follow their verdict in letter and spirit. The members feel that whatever decision that is taken should be done with due deliberations. There is a worry that if BCCI terminates the franchise in haste and there is a long-drawn legal battle, it might bleed the board," the official further added.
IPL GC chairman Rajeev Shukla, right, with BCCI secretary Anurag Thakur. Photograph: PTI
Also the fact that Shirke, a member of BCCI's western lobby led by former president Shashank Manohar, does not have too many supporters in the current dispensation.
In fact a senior BCCI official and a member of the GC, without naming Manohar, took a dig at him.
"There is a group of three or four associations who want termination of an already suspended franchise. That is their point of view but that's not the view of the majority. Also if someone wants CSK banned for life today, that very person was a senior office-bearer when India Cements were allowed to bid for an IPL franchise. Why didn't he raise his concern at that point of time," the official questioned.
Team India Director Ravi Shastri, who joined via tele-conference from London, wanted to inquire whether BCCI can adopt the two teams to which he was intimated that the board needs to check whether the 'Conflict of Interest' issue arises or not.
It has been learnt that Banerjee, who is the head of the legal cell, will be one of the members of the 'Working Group'. It is still not known whether IPL GC chairman Rajeev Shukla will be a part of the group since he is entrusted with the duty of selecting the members of the group.