Chris Gayle broke and established many new records with his big-hitting in the game against Pune Warriors India. We take a look at some of them:
- It took Chris Gayle only 30 balls to race to his hundred -- fastest in Twenty20 cricket.
Andrew Symonds held the previous record with a 34-ball hundred for Kent against Middlesex in Twenty20 Cup in 2004. Yusuf Pathan held the previous record of the fastest IPL hundred -- off 37 balls -- for Rajasthan Royals against Mumbai Indians in 2010.
- Gayle's innings of 175* the highest ever in all Twenty20 cricket, surpassing Brendon McCullum's 158* for Kolkata Knight Riders against Royal Challengers Bangalore in 2008.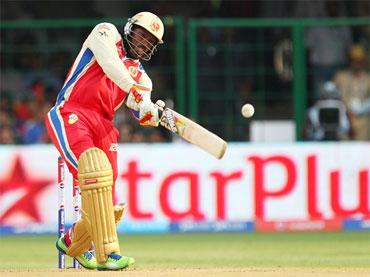 - 17 sixes hit by Gayle were the most in an innings in a Twenty20 match. Graham Napier had hit 16 sixes for Essex against Sussex in Twenty20 Cup in 2008. The previous record of most sixes in an IPL match was shared by Brendon McCullum and Chris Gayle with 13 sixes.
- Chris Gayle has 11 hundreds in Twenty20 format -- most by any batsman. David Warner and Brendon McCullum are distant second with five hundreds each. In IPL also, Gayle is on the top of the table with four hundreds. David Warner, Murali Vijay and Adam Gilchrist have hit two hundreds each.
- Gayle became first batsman to hit 150 sixes in IPL and extended his tally of sixes to 163. No one else has got even 100.
Gayle took his tally of boundaries (fours and sixes) to 345 in IPL -- most by any batsman.
- Gayle and Tillakaratne Dilshan added 167 runs to form the highest opening partnership in IPL history (Dilshan's contribution was only 33 in that partnership). Mumbai Indians' Sachin Tendulkar and Dwayne Smith had added 163 runs without being separated against Rajasthan Royals in 2012.
- Propelled by Gayle's big-hitting, Royal Challengers Bangalore ended with 263 for five -- the highest total in the Twenty20 format. The previous highest was Sri Lanka's 260 for six against Kenya at Johannesburg in 2007. The previous highest in an IPL game was Chennai Super Kings' 246 for five against Rajasthan Royals in 2010.
…..and following are some other records made in the match:
- Aaron Finch conceded 29 runs in his only over (eighth of the innings) -- most expensive in IPL 2013. The fifth over of the Royal Challengers Bangalore's innings -- bowled by Mitchell Marsh -- had produced 28 runs.
- Royal Challengers Bangalore raced to their hundred in only 7.5 overs -- fastest in IPL history. Royal Challengers Bangalore also held the previous record with 8.2 overs against Kochi Tuskers Kerala in 2011.
- Royal Challengers Bangalore took 15.5 overs to score their 200 -- fastest in IPL history. Chennai Super Kings had taken 16.5 overs against Rajasthan Royals while scoring IPL's previous highest total in 2010.
- AB de Villiers scored 31 runs off 8 balls (S/R 387.50). His innings was the highest by a batsman off exactly 8 balls in IPL history. Yogesh Takawale (in 2008), Kamran Akmal (in 2008) and Ambati Rayudu (in 2013) had scored 24 runs (S/R 300.00).
- Mitchell Marsh conceded 7 sixes in the match -- most by any bowler in an IPL match. James Hopes (in 2008), M Muralitharan (in 2010) and Ashish Nehra (in 2010) had conceded 6 sixes in a match.
- Royal Challengers Bangalore won the match by 130 runs -- second biggest win in IPL. Kolkata Knight Riders had beaten Bangalore side by 140 runs in the very first IPL game in 2008.
Photograph: BCCI