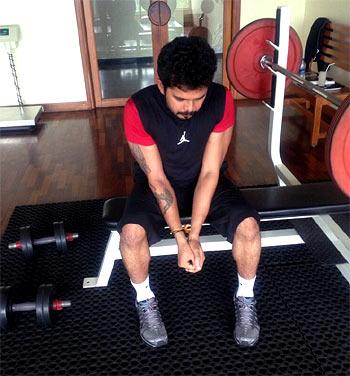 India pacer S Sreesanth, who is out on bail after being arrested for his alleged involvement in the Indian Premier League spot-fixing case, was admitted to a hospital in Kochi on Friday after suffering from fever.

"He was down with viral fever and was admitted to the hospital today morning," his brother Dipu Santhan told Rediff.com.
- I played the game in true spirit, says Sreesanth

He further added that the Kerala speedster's condition is already improving and he might be discharged from the hospital in a day or two.

"Sreesanth was not feeling very well when we brought him but his condition has improved now. The doctors said his condition is much better now and he can go home in a day or two," Dipu added.
- Even my enemies should not suffer this fate: Sreesanth

Sreesanth and Rajasthan Royals teammate Ankeet Chavan were released on bail earlier this month. They were arrested on May 16, along with 11 bookies, from Mumbai by Delhi police and charged under Indian Penal Code Section 420 and 120B, which deal with fraud, cheating and criminal conspiracy.

Sreesanth had started training last week and expressed hope of getting back on the field soon.

"Started training again..gods grace..first day..slowly getting back to normal life..thanks a lot for all ur support..," Sreesanth wrote on his Twitter handle.

"Will keep working hard nd wait..nd be patient ..hopefully I will be able to get back on field sometime soon ..jai mata di," he added.
Photograph courtesy: S Sreesanth on Twitter