A Delhi court remanded Rajasthan Royals' tainted trio Sreesanth, Ajit Chandila, Ankit Chavan and 10 others to five more days in police custody, in the Indian Premier League spot-fixing case, it was reported on Tuesday.
Four other arrested bookies were sent to judicial custody till June 4 by the court.
- Supreme Court refuses to ban IPL matches
The provision of criminal breach of trust, which entails life imprisonment, has been invoked against the accused by the Delhi Police.
Sreesanth is facing charges of criminal breach of trust under Section 409 of IPC in the spot-fixing scandal.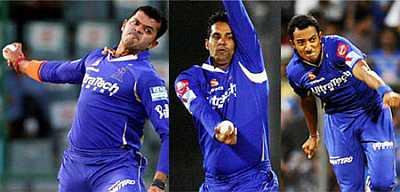 A mobile phone, allegedly bought by Sreesanth for his female friend using money earned through betting, was recovered, said a Delhi police source.
Earlier, Sreesanth was taken to Jaipur by Delhi Police as part of their probe into spot-fixing.
Sources said Sreesanth was taken to Marriott Hotel in Jaipur and brought back as he was to be produced before a court following expiry of remand.
At least 18 people -- three IPL players, four former players and 11 bookies and their assistants -- have been arrested since last Thursday in connection with the scandal that rocked the cricketing world.
Meanwhile, the alleged kingpin in the IPL betting racket was arrested on Tuesday, while the police conducted searches in Chennai.
Police searched the house of alleged mastermind Prashanth and recovered some mobile phones and a laptop along with some documents and cash.
Photograph: BCCI
© Copyright 2021 PTI. All rights reserved. Republication or redistribution of PTI content, including by framing or similar means, is expressly prohibited without the prior written consent.