The fate of the former India cricket chief and his Indian Premier League team will be known when the Supreme Court pronounces its verdict on Thursday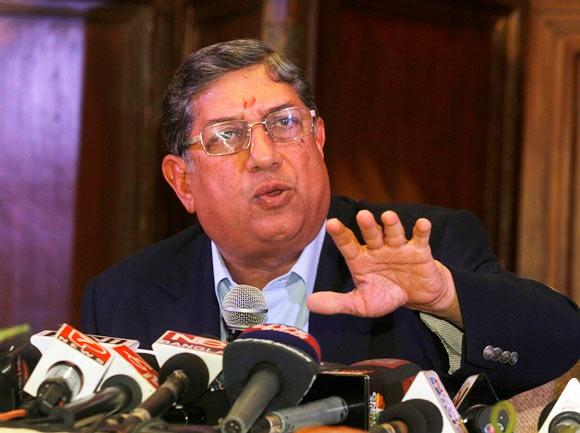 N Srinivasan. Photograph: Rupak De Chowdhuri/Reuters
The Supreme Court will give its final verdict on the 2013 Indian Premier League betting and match-fixing scandal on Thursday.
It is expected that the fate of suspended Board of Control for Cricket in India president Narayanswami Srinivasan and his IPL team, Chennai Super Kings, will be determined once the judgement is pronounced.
- No evidence of match-fixing by BCCI officials in IPL: police
Srinivasan, who is seeking a third term as BCCI president, faces serious charges of conflict of interest as a cricket administrator.
His son-in-law, Gurunath Meiyappan, is in the eye of the storm for betting.
On December 17, when the Supreme Court broke for the winter break, the special bench, comprising Justices T S Thakur and F M Kalifullah, reserved its order on the corruption case after listening to a final round of arguments.
The case dates back to June 2013 when Aditya Verma, secretary of the Cricket Association of Bihar (CAB), raised charges of a conflict of interest in the BCCI's original two-member inquiry panel for the IPL corruption issue.
The Bombay high court ruling later termed the probe panel "illegal".
The BCCI and the CAB filed petitions in the Supreme Court against this order, with the CAB contending that the Bombay high court could have suggested a fresh mechanism to look into the corruption allegations.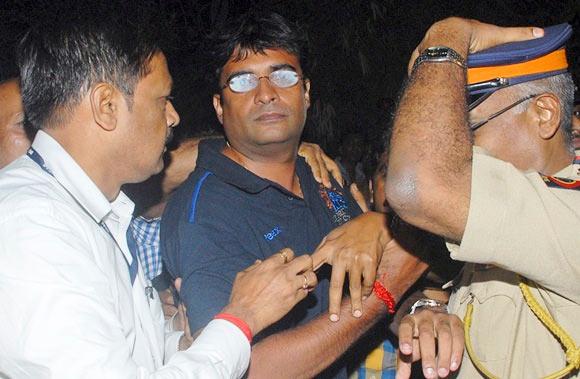 Gurunath Meiyappan (centre). Photograph: Stringer/Reuters
The Supreme Court then appointed a three-member committee, headed by former Punjab and Haryana high court judge Mukul Mudgal and comprising additional solicitor general L Nageswara Rao and Nilay Dutta, to conduct an independent inquiry into the allegations of corruption against Meiyappan, India Cements, and Rajasthan Royals' team owner, Raj Kundra, as well as the larger mandate of allegations around betting and spot-fixing in IPL matches and the involvement of players.
The panel indicted Meiyappan and Kundra for betting and sharing team information.
Srinivasan and IPL COO Sundar Raman were also charged with "misdemeanor" that included cover-up reports of betting involving team owners and their acquaintances.
The probe finally narrowed down to 13 names, one of which was Srinivasan, who was suspended from running the affairs of the BCCI.
The Supreme Court has so far been critical of Srinivasan and the way he ran cricket in India with multiple interests in mind.