Retired Justice T Jayaram Chouta, who is a part of the three-man inquiry commission probing the alleged betting charges against Gurunath Meiyappan, on Wednesday ruled out any interference from the BCCI chief N Srinivasan and said nobody can influence his investigation.
"As far as I am concerned, nobody can influence me. Even if he (Srinivasan) comes, I don't think so. I will work independently and act according to the Constitution," former Karnataka and Madras High Court Judge Chouta said in Bangalore.
- Srinivasan says he hasn't been asked to quit
The BCCI had on Tuesday constituted a three-member inquiry commission including two retired High Court judges to go into allegations against Meiyappan, son-in-law of Srinivasan, who has been arrested on charges of betting on the recently-concluded Indian Premier League matches.
Justice Chouta, Justice R Balasubramanian, former Judge of the Madras High Court, and BCCI secretary Sanjay Jagdale are members of the commission, which will also go into the allegations against three players of the Rajasthan Royals team and its franchise, as well as the Chennai Super Kings, of which Meiyappan was the Team Principal.
Chouta said he would be able to comment on his area of probe once he receives a written communication from the Board.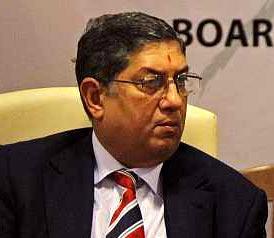 "I have not received written communication as yet. Hence I am not in a position to speak about it. I don't know the reference to a particular area. Only after seeing the written communication, I will be knowing about my area of probe," he said.
Chouta said the commission will not ask the beleaguered BCCI president Srinivasan to step down from his post.
"We will not ask Srinivasan to step down. If he wants, he can step down but it is not in our purview to ask him to quit," he said.
The pressure has been mounting from within the BCCI on Srinivasan to resign with two Board heavyweights, Rajeev Shukla and Arun Jaitley, asking him to "disassociate" himself from the inquiry proceedings against his son-in-law and IPL franchise CSK.
Madhya Pradesh Cricket Association President and Chairman of BCCI's Finance Committee, Jyotiraditya Scindia on Tuesday had become the first BCCI functionary to openly call for Srinivasan's resignation in the wake of the spot-fixing scandal, saying that propriety demanded that he should step down.
While Scindia wanted Srinivasan to step down till the case of Gurunath is decided, Union Minister and another senior Board functionary Farooq Abdullah had backed the under-fire president, saying there was no reason for him to quit.
Ever since the scandal broke out, Srinivasan has shown defiance, refusing to quit and insisting that his resignation is only being sought by a "hounding media".
The latest developments indicate a hardening of stand among some of the key members of the Board who are active politicians and could prompt others to make similar demands.
The Sports Ministry has also sought Srinivasan's resignation for the sake of propriety.
© Copyright 2021 PTI. All rights reserved. Republication or redistribution of PTI content, including by framing or similar means, is expressly prohibited without the prior written consent.