The BCCI on Friday made it clear that it had not been told by ICC regarding the world body's reported warning to betting accused Gurunath Meiyappan to keep away from bookies at the start of IPL 6 as has been claimed by him during police interrogation.
BCCI Chief Administrative Officer Ratnakar Shetty told reporters that ICC Anti-Corruption and Security Unit chief Y P Singh was present during the Board's Emergent Working Committee Meeting in Chennai on May 19 and he did not share any such information.
- Srinivasan should be sacked if he doesn't go: Lele
"Mr Y P Singh, head of ICC ACSU and Ravi Sawani, BCCI's anti-corruption unit head, were present during the Emergent Working Committee Meeting on May 19 as special invitees. They have not told BCCI anything about this matter," Shetty said.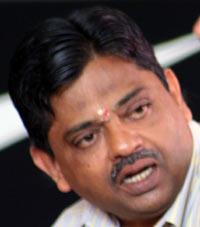 "They attended the meeting as official invitees and if they had such things (that ICC had warned Gurunath) they would have told us. So, as far as the BCCI is concerned we have not be informed officially by the ICC about any warning by the world body (to Gurunath)," he said.
"We don't know any private talk between BCCI officials and ICC people. We have not been officially informed about this warning," he added.
Shetty also said that an Emergent Working Committee Meeting of the Board has been called next week to discuss the current crisis but the date and time will be decided on Saturday.
"An Emergent Working Committee Meeting of the Board will be held next week but the date and time will be decided tomorrow," he said.
Earlier in the day, pressure mounted on BCCI chief and Gurunath's father-in-law N Srinivasan with three top BCCI officials reportedly asking him to convene an emergency meeting to discuss the current crisis.