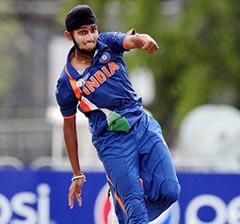 Rajasthan Royals left-arm spinner Harmeet Singh appeared before the BCCI's Anti-Corruption and Security Unit (ACSU) chief Ravi Sawani on Saturday and was questioned for close to one and half hours in the ongoing Indian Premier League spot-fixing probe.
Former India Under-19 player Harmeet had recently told the Delhi police that his team-mate Ajit Chandila had approached him with bookies to indulge in spot-fixing but had reportedly refused the offer.
A top BCCI official confirmed that the left-arm spinner was questioned by Sawani for over an hour regarding his meetings with bookies during the sixth edition of the IPL.
Sawani, who has been appointed by the BCCI as commissioner of inquiry to probe spot-fixing allegations involving Rajasthan Royals players, will submit his findings to the disciplinary committee which will send its recommendations to the working committee that will announce the final verdict.
The official added that inquiry process is almost over with only Chandila, who is still in police custody, remaining to be questioned.
"The process is over but Ajit Chandila is still inside the jail, so the ACSU is waiting for him to be released on bail before questioning him," the official said.
Rajasthan Royals cricketers Sreesanth, Chandila and Ankit Chavan along with 23 others were arrested from various places after Delhi Police intercepted telephone calls of those linked to the Mumbai underworld.
© Copyright 2021 PTI. All rights reserved. Republication or redistribution of PTI content, including by framing or similar means, is expressly prohibited without the prior written consent.