The England and Wales Cricket Board (ECB) is set to interrogate Rajasthan Royals' English recruit Owais Shah as a precautionary measure in the wake of the recent spot-fixing scandal that has rocked the ongoing Indian Premier League.
Former England batsman Shah, a member of Rajasthan Royals which is at the centre of a major investigation by Delhi police after three of the team's players were arrested earlier this week for thei alleged involvement in spot-fixing, is set to be interviewed by ECB's Anti-Corruption and Security Unit (ACSU).
- Tainted trio name more players in IPL 'fixing' scandal
While there is no suggestion Shah has done anything wrong, the Daily Telegraph claimed that Chris Watts, a former police inspector who heads the ECB's ACSU, will speak to Shah at the end of the tournament.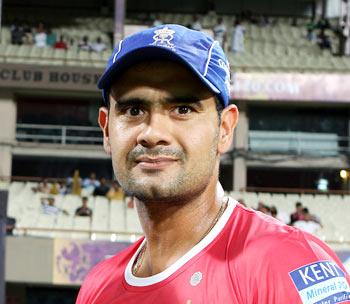 Three Indian cricketers including former Test players S Sreesanth along with his teammates Ankeet Chavan and Ajit Chandila were arrested by Delhi police on Thursday along with 11 bookies for indulging in spot-fixing in at least three matches of the ongoing IPL.
The development alerted the ECB's ACSU, who is in regular contact with all English players who are employed abroad in various Twenty20 competitions through the Professional Cricketers' Association.
Shah, the Essex cricketer, is in his second season with the Rajasthan franchise, having joined them after Kerala Tuskers were evicted from the IPL in 2012.
Among some of the other English cricketers with past links to Rajasthan Royals include Michael Lumb and Dimitri Mascarenhas.
Media reports in the UK claim that any ECB action to interview players will merely be part of its determination to stay as informed as possible over any threats of corruption in the game.
Photograph: BCCI