'What captains want are players who move well in the field.'
'It doesn't matter which year a player is born in, whether you are 19 or 20 -- you have to be agile.'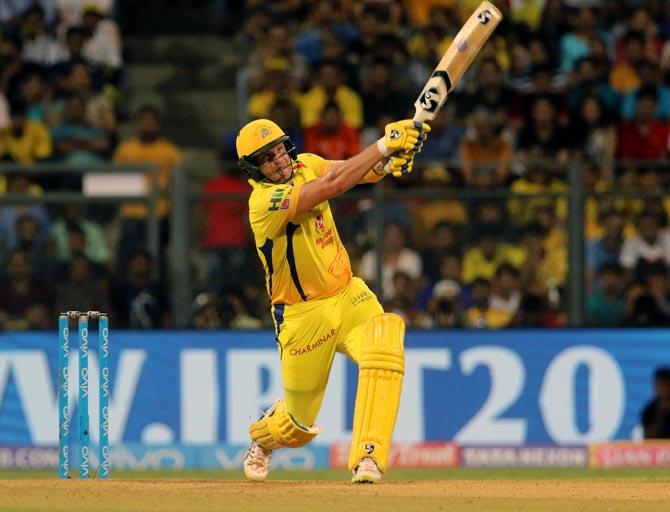 Chennai Super Kings' fairy tale comeback is proof that fitness matters more than age, CSK Skipper Mahendra Singh Dhoni said after guiding his team to a third Indian Premier League title in Mumbai on Sunday.
During the IPL Players Auction, CSK were criticised for picking up 9 players in their 30s including Shane Watson and Ambati Rayudu, who were instrumental in the team's triumph.
"We talked a lot about age, but what matters is the fitness. Rayudu, for example, is 32, he's someone who is fit, covers a lot of ground. Even if he plays a few games where he spends a lot of time in the ground and in the field, he never complains. So it is the fitness that really matters more than the age aspect," said 36-year-old Dhoni after the crushing 8 wicket win over the Sunrisers Hyderabad.
"What captains want are players who move well in the field. It doesn't matter which year a player is born in, whether you are 19 or 20 -- you have to be agile. You have to accept your shortcomings."
"For example if I push Watson to stop a single, there is a very good chance that he will burst his hamstring and won't be available for the next game. So what you tell yourselves is that they have to commit and try, but there's no point getting injured for a single," Dhoni added.
Watson's sensational knock ensured CSK chased down a challenging 179 with ease. It was a memorable tournament for the soon-to-be-37-year-old Australian, who ended with 555 runs including two centuries and as many half centuries.
"It's been a special season to be honest. To get a special season especially after the last season with RCB. It means a lot to be with a franchise like CSK. After those first 10 balls I was only hoping to catch up to at least a run-a-ball," said Watson.
Watson battled pain and injury to take the team home.
"The good thing is I won't be playing for the next three-four months; feels great. It gives me plenty of time to recover. Throughout the back end of the tournament I was hanging on for dear life. (CSK Coach) Stephen Fleming and M S Dhoni have been looking after me really well and I am really glad to contribute like I did tonight," he added.
SRH Captain Kane Williamson had a rich run with the bat, amassing 735 runs to end as the season's highest run-getter.
Willamson replaced the suspended David Warner as SRH skipper just ahead of the IPL.
The New Zealander was disappointed that the team could not win the all important final after posting 178/6.
"We thought it'll be a competitive total, but the pitch did hold a bit. We saw that in our first five-six overs, and for the large part of the game we were doing okay. But hats off to Shane Watson. You do have to congratulate CSK," he said.
"It's frustrating because we played some really good cricket for the large part. Wasn't to be, and they certainly showed their experience. The boys are hurting at the moment, but we've fought hard. A shame not to come across the line, but a lot of positives," Williamson added.