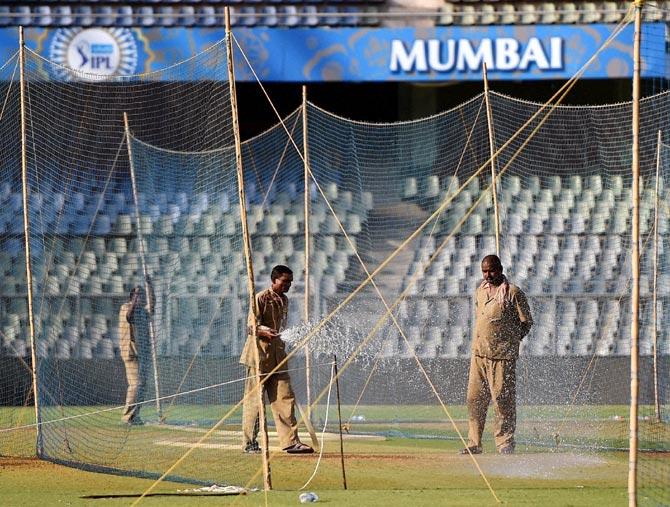 IMAGE: The groundstaff water the pitch at the Wankhede stadium in Mumbai. Photograph: PTI
An environmental activist in Bengaluru on Monday filed a Public Interest Litigation (PIL) in the Karnataka high court seeking a direction for water audit on Karnataka State Cricket Association stadium premises to determine the amount of usage of water on a daily basis for the Indian Premier League matches by BCCI and IPL chiefs.
- Check out the IPL 9 schedule

In his petition, activist Srinivasa Sharma sought a court direction to the Chairman of Bangalore Water Supply and Sewage Board (BWSSB) to justify the 'injudicious' allocation of water to IPL at the cost of deprivation of water to the public at large.

Sharma also sought court direction to the Board of Control for Cricket in India and KSCA chiefs to substantiate the steps taken under the imperative social responsibility to the public at large to justify the 'massive waste' of city water for conducting matches in the T20 league.
- 'IPL games will waste 60 lakh litres in a drought-hit state'

He said actions of BWSSB are 'patently inconsistent' with the set policy and ground realities faced by the residents of Bengaluru and the vicinity.

He alleged that BCCI, IPL and KSCA chiefs are utilising their financial clout to procure and drain valuable water resources for the conduction of a purely commercial venture like IPL which derives no public benefit.

The IPL also delivers minuscule returns to the state exchequer in stark comparison to staggering profits made by BCCI and IPL and KSCA Chiefs, he pointed out.

Sharma also argued that they owe public accountability as to their treatment and diligence to the environment and public welfare in the form and facet of Corporate Social Responsibility, since they net large revenues by their dominating monopoly over the 'highly lucrative and vast political clout ridden sport of cricket.'

He submitted that there is an 'injudicious' allocation of water that denies the less fortunate their basic right to access water.
© Copyright 2021 PTI. All rights reserved. Republication or redistribution of PTI content, including by framing or similar means, is expressly prohibited without the prior written consent.