Bollywood superstar Shah Rukh Khan got into an ugly spat with Mumbai Cricket Association officials at the end of the IPL match between Mumbai Indians and Kolkata Knight Riders, in Mumbai, on Wednesday.

According to MCA officials, Shah Rukh, who came to the Wankhede stadium at the end of the match, first got into a fight with the security men and when the MCA staff intervened he threatened them as well.
- Discuss Shah Rukh's behaviour at the Wankhede
"He brought a few people into the field of play and when the security guard tried to stop him, they all, around 20-25, abused him and attacked him. They also hit our security guard," MCA treasurer Ravi Sawant told Rediff.com.

"Shah Rukh came totally drunk and he misbehaved with the officials," Sawant added.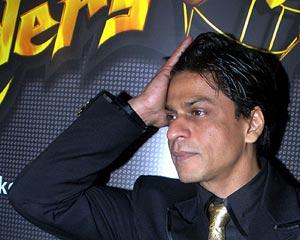 "We will ban Shah Rukh for life from the Wankhede stadium. We are also going to file a police complaint against him," he further said.
Another MCA official said, "He abused the MCA and also abused the BCCI. We will not let him get away with this. We have called an emergency managing committee meeting on Thursday to discuss the issue. He also tried to raise his hands on the other committee members."
A few MCA officials later went to the Marine Lines police station and filed a complaint against the actor, an official added.
Khan was seen abusing the MCA officials and even charged at Sawant and others. He yelled at them using the f*** word.
Later KKR officials took Shah Rukh away from the scene but the MCA officials were left seething in anger and promised stern action against the actor's rowdy behaviour.
Photograph: Manav Manglani/Reuters