Captain Mahendra Singh Dhoni seems to be in a very playful mood these days as he once again tickled his fans' funny bones by taking a few good-humoured jibes at Chennai Super Kings teammate 'Sir' Ravindra Jadeja.
"When you give Sir Ravindra Jadeja one ball to get 2 runs he will win it with one ball to spare !!," Dhoni wrote on his Twitter handle. The tweets followed Chennai's dramatic win over Royal Challengers Bangalore in the IPL on Saturday.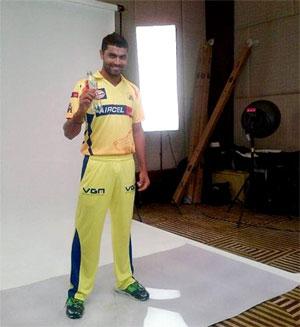 Jadeja stole the thunder as he guided Chennai to a thrilling win with two to get off the final ball of the match.
It was then Dhoni's turn to poke fun at his teammate and enthral his followers on the social microblogging website.
"Sir jadeja was upset abt only 1 t20 match in a bilateral series so BCCI came up with the idea of IPL. So all the fans of ipl plz thank SRJ," Dhoni tweeted.
This was the second time in less than a week that Dhoni was tweeting on Jadeja.
"God realised RAJNI sir is getting old so he created sir ravindra jadeja," the India skipper had tweeted a few days days back, referring to South superstar Rajnikanth.
Dhoni added to the fun by posting another gem.
"Wen sir jadeja drives his jeep, his jeep remains still and road moves and wen he goes in to bat the pavillion moves to the wkt." It did not end there as Dhoni went on to leave another post.
"Sir jadeja doesn't run to take the catch but the ball finds him and lands on his hand," his next post read.
Jadeja's teammate Suresh Raina, too, left a post congratulating the all-rounder on his match-winning knock.
"Well played SRJ.... U beauty.. Keep up the CSK flag high love u beeba," Raina tweeted.
Dhoni had a few more, reserved for his junior teammate, who is enjoying a lot of attention on the internet at the moment.
"Leaving for practice at 3pm but the stadium is coming so tht sir jadeja can practice," Dhoni wrote.
"Whenever sir jadeja makes an error its an invention and on a daily basis v get plenty of those,all patent pending."
© Copyright 2021 PTI. All rights reserved. Republication or redistribution of PTI content, including by framing or similar means, is expressly prohibited without the prior written consent.