A six-member team of Delhi Police's Special Cell on Saturday raided tainted cricketer Ajit Chandila's residence in Prahladpur in Haryana for further clues on the IPL spot-fixing issue that has led to the cricketer's arrest.
The Police team arrived at his house around 2 pm local time with the search warrant but except for a few relatives, no one else was present at the house.
- IPL to go on, need to weed out corrupt: Shukla
It is learnt that one of the relatives informed the police authorities that Chandila's elder brother Subhash is unwell and has been admitted to a city nursing home where the family members had gone to visit him.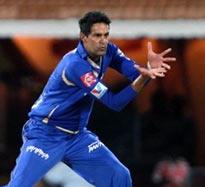 The police team had a female cop too, who waited inside the residence for around 45 minutes for the family members to arrive.
The other cops then questioned the neighbours as well as the relatives to get detailed information about each and every family member.
A special cell of the Delhi police arrested India pacer Sreesanth and his Rajasthan Royals teammates Chandila and Chavan for allegedly indulging in spot-fixing in at least three IPL matches as per arrangements with bookies who have underworld connections abroad.
The players, who have been suspended by the BCCI, are charged under section 420 (cheating) and 120-B (criminal conspiracy) of the IPC and being interrogated in Delhi.
Photograph: BCCI
© Copyright 2021 PTI. All rights reserved. Republication or redistribution of PTI content, including by framing or similar means, is expressly prohibited without the prior written consent.