RCB stand-in skipper Virat Kohli has heaped praise on AB de Villiers for his whirlwind 47 off 17 balls which helped them to beat Deccan Chargers by five wickets and keep their hopes alive of making it to the play-off in the fifth Indian Premier League.
De Villiers blitz blows Deccan away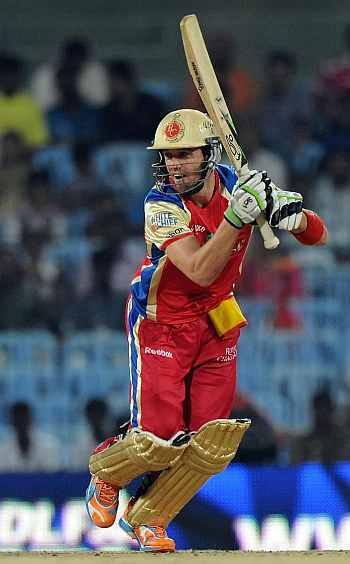 De Villiers helped RCB score 72 runs off 3.5 overs to overhaul the stiff target of 182 with seven balls to spare and Kohli described it as one of the best finishes he had seen.
"We wanted to win it badly, they bowled well in the middle overs, but when you have AB, anything is possible. That's one of the best finishes I have seen. Hopefully we can continue this momentum and make it to the play-offs," Virat said on Sunday.
De Villiers was particularly harsh on his countrymate Dale Steyn as he smashed him for two sixes and as many fours but the wicketkeeper-batsman said he was scared of the speedstar.
"We needed that win. The commentators spoke about our charity initiative back home, guess that is what motivated me tonight. I was actually quite scared facing him [Steyn], I know him pretty well. It does not happen every day," he said.
Deccan skipper Kumar Sangakkara blamed the bowlers for failing to contain the De Villiers at the death overs.
"We made a good score, but we did not get the yorkers in. We needed to bowl good balls and make it difficult for AB, who batted unbelievably well.
"All you can do is trust your bowlers to do the work for you. Dale has had a great tournament, unfortunately he had a bad over today. You hold and hold until you ultimately win," he added.