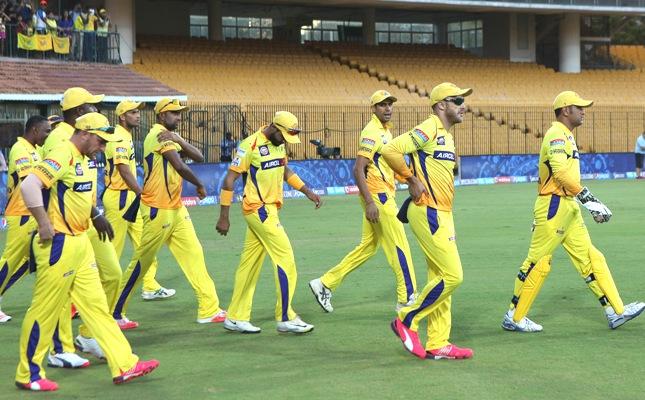 The Chennai Super Kings team taking to field ahead of an Indian Premier League game. Photograph: BCCI
Notwithstanding Mumbai Indians' poor start in this IPL season, Chennai Super Kings head coach Stephen Fleming is wary of the home team's capabilities and insists that the visitors, who are unbeaten so far, have not lowered their guard for Friday's game.
"Some of our players have had very good success here. The Indian players (in the team) still remember the World Cup win (at this venue in 2011). There's a good feeling around this ground. (But) Realism is, it's going to be tough and, given the start Mumbai's had, it's going to be tougher.
"We have to play really well and not show any complacency or any overconfidence," said the former New Zealand skipper at the match-eve press conference at the Wankhede Stadium.
Fleming was referring to MI's string of three losses that has confined the 2013 champions to the bottom of the league table without a point to their name.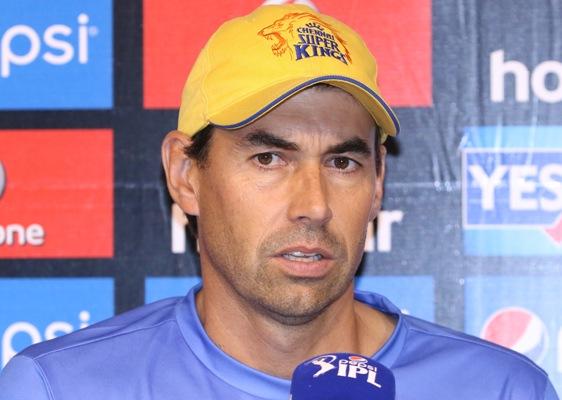 Chennai Super Kings coach Stephen Fleming addressing a press conference. Photograph: BCCI
Talking about his own team, the 42-year-old former player – who has been with the two-time champions as a player first before moving into a coaching role - said that crossing the line against Delhi Daredevils in their opening game was crucial.
"It has been good for us. Whenever you a couple of games to start at home you can end with the bit of time. We scraped across the line in one and played very well in the other (against SunRisers Hyderabad). This is a different challenge. That's what we are addressing today. We will train well. We have always enjoyed playing here."
Fleming said the road to Cup glory is a long and arduous one and needed a lot many players to pull the team in unison.
"We haven't won (title) for three years though we have come very close. What we are going to do is climb it slowly, step by step, to get to that position again. You have to play really well for a long period of time to get there.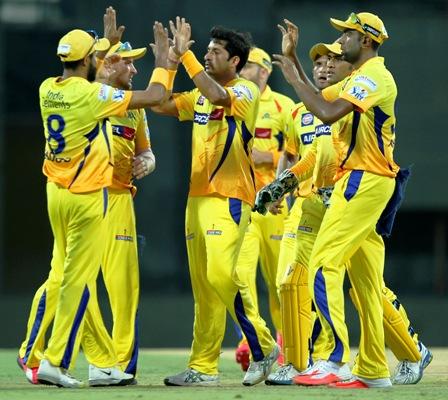 Mohit Sharma of Chennai Super Kings celebrates a wicket with his teammates. Photograph: BCCI
We are trying to earn the right to reach the final, that's what every team is aiming to do. Getting across the line in the first game was very important. We were meters away from losing which has not been lost on us.
"If we play well and if you have McCullum to get a hundred and Dhoni a sixty chances are we will win the game. But that doesn't happen all the time. It could be Raina's game, the next one, or someone else's which keeps boosting you. That's what we pride ourselves on."
Fleming defended under-performing Ravindra Jadeja's batting, saying he does not get many balls to play, while conceding the left-handed Saurashtra all rounder's confidence in his bowling was a bit down.
"I have sympathies for Jadeja. He's had a hard role to play. If you look at it, how many balls has he faced over the last year, probably, minimal. He does not get a lot many balls to show his wares. He comes and has to get a quick 20 to win the game or to get a score. We are not going to be hard on him as a batsman. He's been better than that.
"Jadeja, with his bowling, needs a little bit of confidence. He needs some overs under his belt. The other guys are bowling well, so there's pressure there."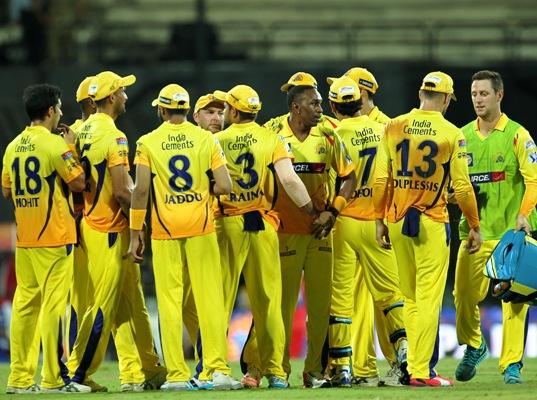 Chennai Super Kings players celebrate a wicket. Photograph: BCCI
Asked about the perceived lack of faith of team captain Mahendra Singh Dhoni in Jadeja's bowling, with the left arm bowler getting to bowl just one over in two games, Fleming said nothing much needed to be read into it.
"The other boys did the job. The captain assessed the pitch conditions (and did not use Jadeja). There's nothing more to it than that," he said.
"To have different players stand up on different games is a very important component of any game. T20 is a game of hits and misses.
"In T20, form can be pretty fickle. So we like to give players more time to relax and play their natural game," the former opener said when asked about Ashish Nehra and McCullum winning the man of the match awards in the first two games.