Alleged racket suspected to be between Rs 1,000 – Rs 4,000 crore
Searches are aimed at investigating some top links active in betting in matches in the Indian Premier League
Suspected bookies in Jaipur and Thane have been found to be using the Hawala route to transfer bettings funds abroad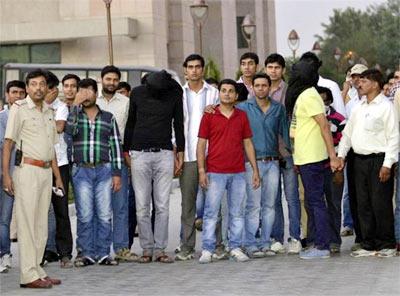 Representational picture: Police escort bookies. Photograph: Reuters
The Enforcement Directorate (ED) on Friday arrested a suspected Delhi-based bookie after launching searches in multiple cities, including Delhi, Mumbai and Jaipur as part of its hawala and money laundering probe against some betting syndicates in connection with the latest IPL T20 cricket matches.
Sources said suspected operative Mukesh Sharma was arrested by the agency under relevant sections of the Prevention of Money Laundering Act (PMLA) from the national capital on allegations of operating a UK-based betting website and subsequently placing bets on IPL matches.
"Sharma will be produced in a court tomorrow to obtain a transit remand for him to be taken to Ahmedabad," the source said adding the said website had 50 lakh illegal users in India and its user password was allegedly being activated by the arrested accused.
Fridays' action by the central probe agency was launched on about eight premises in these cities including locations in Thane (Maharashtra) and Gurgaon by the Ahmedabad office of the agency in coordination with their local counterparts.
"The searches are aimed at investigating some top links active in betting in matches in the Indian Premier League cricket tournament. This is an extension of similar raids that were conducted by the agency on May 10," the sources said.
Some cash, jewellery and computer hardware have been seized from all the locations.
They said in Mumbai, the suspect bookie got himself admitted to a hospital as soon as the raids were conducted and they claimed even his mobile was taken away by his family members.
Sleuths also searched the premises of suspected bookies in Jaipur and Thane as they have been found to be using the Hawala route to transfer bettings funds abroad and obtain similar money into India from people betting in IPL matches.
ED authorities are also mulling to seek the help of CERT-In to clamp down on the operations of the said betting site in India.
The current probe is being handled by ED's Ahmedabad office which is investigating the case for hawala and money laundering charges and a team of over 30 officials are part of Friday's searches, the sources said.
Similar searches, earlier this month, were conducted in the national capital and its adjoining areas and two Delhi-based alleged bookies were arrested.
Over Rs 26 lakh was seized apart from a cache of computer peripherals, mobiles and hard drives, the sources had said.
In March this year, the Ahmedabad office of the agency had claimed to have busted the alleged betting racket and
arrested some bookies from a farmhouse on the outskirts of Vadodara city in Gujarat.
Later, the probe agency arrested 13 others in connection with this illegal activity from Gujarat.
The same office registered a money laundering case against two prime suspects and a few others in connection with the alleged racket suspected to be between Rs 1,000 – Rs 4,000 crore.
The accused had been earlier charged under Section 418 (cheating), Section 419 (punishment for cheating), Section 420 (cheating and dishonestly inducing delivery of property),
Section 467 (forgery of valuable security), Section 471 (using forged document as genuine) along with Section 120 (b) (criminal conspiracy) of the Indian Penal Code by the agency.