N Srinivasan's days as BCCI president seem to be numbered as a faction within the Board is planning to initiate suspension proceedings against him if he refuses to step down in the aftermath of the IPL spot-fixing scandal that has thrown Indian cricket into disarray.
Srinivasan's son-in-law Gurunath Meiyappan, who was till recently referred to as Chennai Super Kings CEO before being disowned by the franchise, was on Friday arrested for alleged involvement in betting.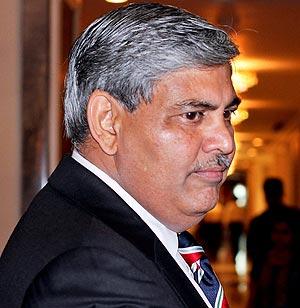 The development has left Srinivasan cornered and there is a growing clamour for his removal from the top post. But the Tamil Nadu strongman has not given any indication of stepping down on his own despite the growing crisis.
Rattled by his continued defiance, some top Board officials have started the process to oust him by getting him suspended and using the services of his predecessor Shashank Manohar, who has a clean image.
According to a top BCCI official, Manohar has agreed to take up the position on an interim basis till elections are held for a new president.
When contacted, no BCCI official was willing to come on record on this development. Srinivasan's term will end in September 2014 as per a new amendment in Board's Constitution, which provides for a 2+1 tenure for the President. It is learnt that four top BCCI officials have already spoken to Manohar on this proposal. "Manohar has agreed to be the interim President till all the problems are sorted out but he doesn't want to occupy the position for long. He would take it up only in a caretaker capacity," the top official said on condition of anonymity.
Photograph: Ritam Banerjee/Getty Images
Also read
Pressure mounts on Srinvasan to quit
Modi demands termination of CSK from IPL
Meiyappan demoted to save CSK's axing from IPL 6
© Copyright 2021 PTI. All rights reserved. Republication or redistribution of PTI content, including by framing or similar means, is expressly prohibited without the prior written consent.