India Under-19 World Cup-winning captain Prithvi Shaw reflects on the struggles he has had to endure to get to the heights of success. Norma Godinho/Rediff.com listens in as the young turk gets candid during a press briefing on the team's return from New Zealand on Monday.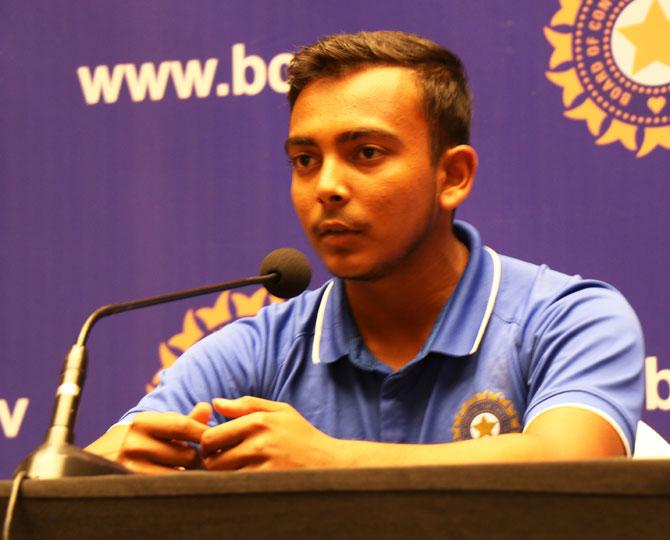 IMAGE: India Under-19 captain Prithvi Shaw speaks at a press conference in Mumbai on Monday. Photograph: Satish Bodas/Rediff.com
Prithvi Shaw termed his journey from his home in Virar (suburban Mumbai) to Mount Maunganui, where his team lifted the U-19 World Cup title as a "difficult" one.
"In the last two-three years we were working hard to play for the India Under-19 team and becoming a World Cup captain, I can't express myself. But I'm very happy and thanks to everyone for supporting me and giving me their blessings. Thanks also to the BCCI and the selectors for putting their trust in me," said Shaw, who guided the Indian team to its record fourth World Cup title after beating Australia at Mount Maunganui in the final on Saturday, February 3.
Speaking of the challenges he faced to get to where he is today, Shaw said: "It was a difficult journey for me, starting from where I used to live in Virar. All credit to my dad, he was the only one who took me (everywhere). He used to take me to matches, for practices and it was far away from my home in Virar."
Shaw comes from Virar, a small town in Palghar district near Mumbai, and the youngster walked down memory lane, retracing his journey from his home town to New Zealand.
"We used to have two-three hour train journeys to get there. It was very difficult for me those days but I think if you work hard for something (you get it). In the past two-three years I have been working hard to play for India Under-19," said Shaw, who scored a hundred on his Ranji and Duleep Trophy debut.
Talking about the way he approached his captaincy, Shaw said: "It is all about experience, when you are 7-8 years old you start playing school-level cricket and score runs. My coaches from school-level to Rahul Dravid sir now, all those experiences make a difference. When you graduate to a higher level, share the dressing room with senior players, you learn things from them. All this mattered when I was looking to score runs in Ranji or Under-19."
Shaw, who scored 261 runs including two fifties during the tournament, said his team executed the plans to perfection and he is extremely proud of them.
"(Feel) Very proud playing for India. Made lots of runs in school, Ranji and Duleep Trophy, but making runs for India is a different feeling altogether.
"Proud that we brought the World Cup back. Everyone's worked hard in practice, practice matches, the support staff, all the 15 (squad members) have put in all the work since the last one year and that is the result we got. Just as we planned, we strategised, we applied it and because of all that we won the World Cup," the young lad trailed off.