Delhi Police has claimed that bookie Mohd Yahya, arrested in the IPL spot-fixing scandal, told them that he had been in touch with "some more" Indian cricketers for manipulating matches even as investigators did not rule out the involvement of foreign players in the case.
Police sources said Yahya, who was arrested from Hyderabad on Friday while trying to flee to Dubai, told his interrogators about the involvement of players other than the three arrested cricketers S Sreesanth, Ajit Chandila and Ankit Chavan.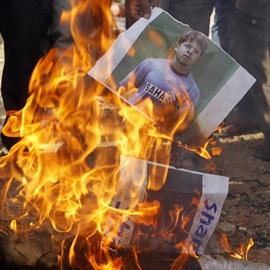 A senior police official said Yahya named cricketers, some of whom had played even at the international level, with whom he was in touch with in connection with the scandal.
However, police refused to name the players saying investigations were on and they have to collect evidences. The official also said he will not rule out the possible involvement of foreign players.
Asked whether team owners were involved in the scandal, the official said "no such thing has surfaced in our investigation."
Police sources said Yahya was approached by bookie Chandresh Patel, who was also arrested, as he wanted to gain access to players.
One of Patel's contacts introduced him to Yahya who "knows somebody and has contacts" in the cricketing world, sources said.
"Patel wanted to contact players of teams other than Rajasthan Royals from where he already had three players," the official said.
On BCCI's letter seeking more details about the scandal, he said police will share details which can be shared with the cricketing body.
A total of 19 people, including three players, have been arrested in connection with the scandal since May 16.