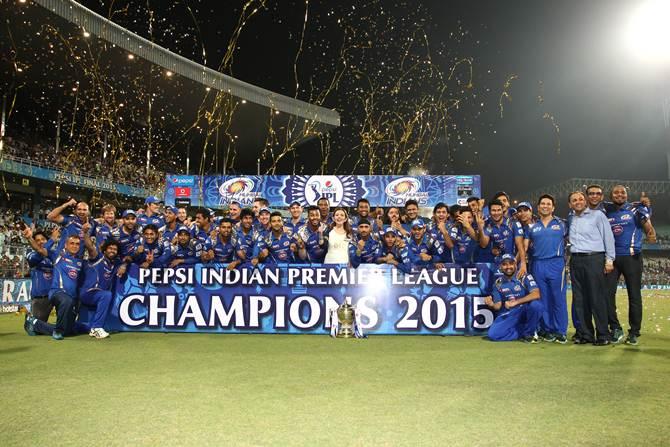 IMAGE: The Mumbai Indians squad after winning the eighth edition of the Indian Premier League. Photograph: BCCI
The next edition of the Indian Premier League will be held from April 9 with new franchisees Rajkot and Pune, which replaced Chennai Super Kings and Rajasthan Royals.
The tournament will begin five days after conclusion of the ICC World Twenty20, which India will host.
The ninth edition of the hugely-popular but controversy-marred Twenty20 tournament will conclude on May 29.
The Pune franchise was bought by New Rising, Kolkata-based business tycoon Sanjiv Goenka's company, while the Rajkot bid was won by Intex Mobiles.
Rajkot and Pune will have draft picks on December 15, with Pune getting to pick the players first.
The new teams will pick from among players who were part of Chennai Super Kings and Rajasthan Royals. Players from both the franchises, suspended for two years, will be divided into two groups of capped and uncapped and the top names will be sold through the draft system.
The new teams will have a minimum of Rs 40 crore and a maximum of Rs 66 crore to buy their players.
The cricketers who are not selected will go to a general pool and be available for fresh auction, scheduled for February 6 in Bengaluru.
Chennai Super Kings and Rajasthan Royals will be back in the league after serving out their two-year suspension for the involvement of some of their officials and co-owners in the IPL betting scandal in 2013, which was probed by the Supreme Court-appointed Justice Rajendra Mal Lodha committee.
The BCCI also announced that the Franchise workshop will be held in Srinagar on January 13 and 14.
Appreciating the marvellous performance by India in the Test series against world number one side South Africa, the Board also announced an award of Rs two crore for the team.
India blanked the Proteas 3-0 in the just-concluded four-match series.