Leave behind past, need to focus on upcoming matches, says Tim Southee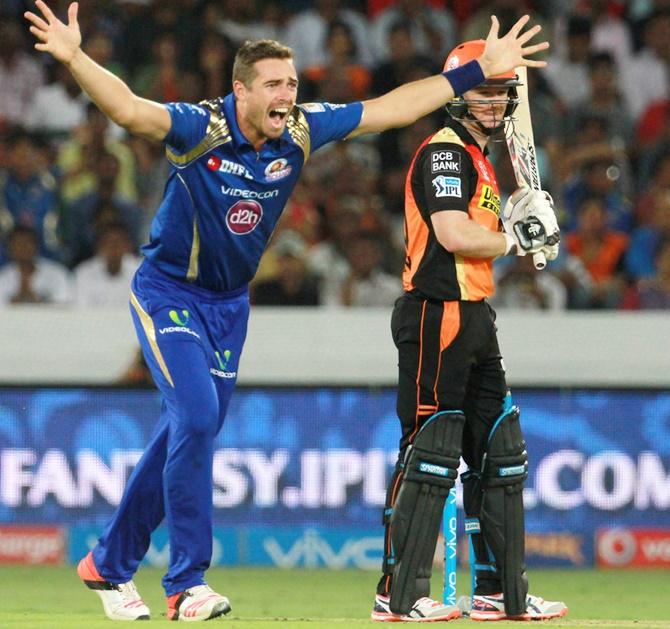 IMAGE:Mumbai Indians player Tim Southee appeals unsuccessfully during the IPL match against Sunrisers Hyderabad. Photograph: BCCI.
A nightmarish start to their Indian Premier League 2016 campaign, notwithstanding, defending champions Mumbai Indians are counting on the positives and would look to focus on the upcoming matches of the tournament instead of looking back, said the team's New Zealand fast bowler Tim Southeee.
Southee said without indulging in post-mortems their third loss out of four matches this season, Mumbai India need to look ahead.
"It's a team effort. It's a long tournament. I think we cannot get too down. I think we leave that (the losses) and look forward to the next game," Southee said after Mumbai India lost to Sunrisers Hyderabad by seven wickets, in Hyderabad, on Monday.
"You cannot sort of hang on to performances that have gone otherwise. You got to learn and push the side in the course to the next one," he said.
Stating that the team has got quality players, he hoped it is a matter of time before they came up with good performances in the ongoing IPL.
Southee appreciated Sunrisers captain David Warner, whose unbeaten knock of 90 powered the hosts to a comfortable win, on Monday, while chasing a modest 143-run target.
"That was not an ideal result (for Mumbai). It was nice to contribute but, may be, nice to contribute to a winning performance. But, Sunrisers played well, restricted us with the ball and then Warner played a great innings all the way through," he said.