The eighth edition of the Indian Premier League, says Haresh Pandya, provides Yuvraj Singh a chance to make up for time lost and opportunities missed or squandered.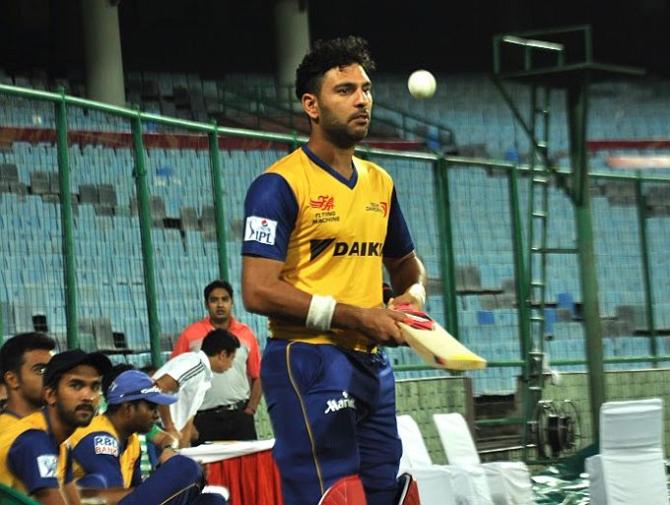 Delhi Daredevils' Yuvraj Singh during a practice session. Photograph: Delhi Daredevils
Delhi Daredevils may have picked Yuvraj Singh for a staggering Rs 16 crore, the record-breaking price for a cricketer in IPL history, after a fierce tug of war with Royal Challengers Bangalore, who had bought him for Rs 14 crore last year, but it is doubtful if the master batsman will be the biggest draw of the eighth season of the lucrative league, which begins on April 8.
Yuvraj has direct competition from South Africa's AB de Villiers (Royal Challengers Bangalore), Australia's Glenn Maxwell (Kings XI Punjab), New Zealand's Brendon McCullum (Chennai Super Kings) and the West Indies' Chris Gayle (Royal Challengers Bangalore) – all fresh from their exploits in the World Cup, which the Indian missed -- in this regard. It will be one of the many challenges for the southpaw, desperate to recapture lost glory.
But attracting the highest bid despite not being part of Team India at the time of auction not only speaks volumes for Yuvraj's ability as an all-rounder in the shorter versions of the game, but also shows that he is still popular and in demand. He will definitely be keen to justify his price.
Yuvraj, who dominated the 10th World Cup in 2011 with a stellar performance with bat and ball, is still stung by his omission from India's squad for the just-concluded 11th edition of the tournament and made it clear that he wants to regain his place in the national side.
These factors should motivate him to perform well, if not exactly set the 2015 IPL on fire, and live up to expectations of his fans and franchise.
'It's been a couple of hard years for me since I've come back from my treatment. I'm in good shape. I've worked very hard. I've had a good domestic season. I'm confident of doing well and hope that things get better from here and I make it back into the Indian team,' the handsome cricketer said the other day.
Yes, Yuvraj had a "good" domestic season, hitting three centuries in a row (130 against Haryana, 136 versus Maharashtra and 182 against Saurashtra), but only after he found his name missing from the list of 30 probables for the quadrennial showpiece event in the Antipodes.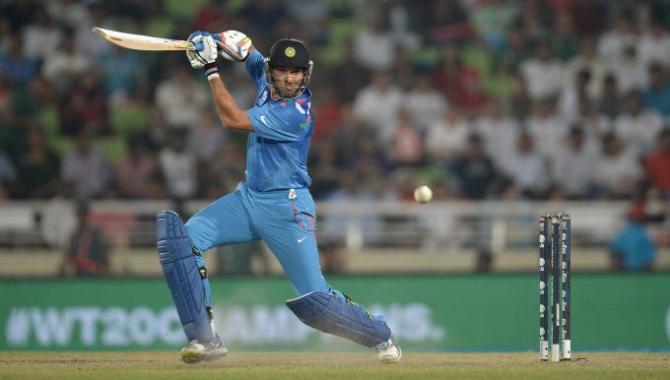 Yuvraj Singh. Photograph: Gareth Copley/Getty Images
But all that is past now. Yuvraj has to assert his class all over again and prove that the fire is still burning in his belly. He has to make up for the time lost and opportunities missed, or squandered, after the heroism with which he overcame, defying all odds, his battle against a rare germ cell cancer and returned to international cricket.
The IPL, a Twenty20 extravaganza of glitz and glamour, may be the right launch pad for Yuvraj, who must also be eyeing, among other things, the next year's ICC World Twenty20 in India, to make yet another comeback into the Indian team for limited-overs' cricket.
There are few better sights in cricket than a fully fit and in-form Yuvraj on song and channeling his talent into right direction. At his best he could still be one of the finest left-hand batsmen in the world with his trademark languid grace, lazy elegance and exquisite shots.
Henry Blofeld, the iconic commentator, writer and cricket romantic, once called him a "cross between Gary Sobers and Graeme Pollock with a dash of Frank Wolley". Blofeld was prompted to go overboard after being enthralled by Yuvraj's majestic 69 (63 balls, 9 fours, 1 six) in that thrilling NatWest Series final between India and England at Lord's on July 13, 2002.
Set 326 to win in 50 overs, India were reeling at 146 for 5 in 27 overs with all the frontline batsmen – Sourav Ganguly, Virender Sehwag, Dinesh Mongia, Rahul Dravid and Sachin Tendulkar – back in the dressing room. But tyros Yuvraj and Mohammad Kaif (87 not out) turned the game on its head with a defiant sixth-wicket stand of 121.
Many could not believe their eyes when, two years earlier, Yuvraj, all of 18 and playing only his second One-Day International, scored an audacious 84 (80 balls, 12 fours) in grim adversity against Glenn McGrath, Brett Lee, Shane Lee, Jason Gillespie and Ian Harvey after Steve Waugh won the toss and chose to field in the Champions Trophy in Kenya in 2000.
In the end, it turned out to be a match-winning innings as India trounced Australia by 20 runs.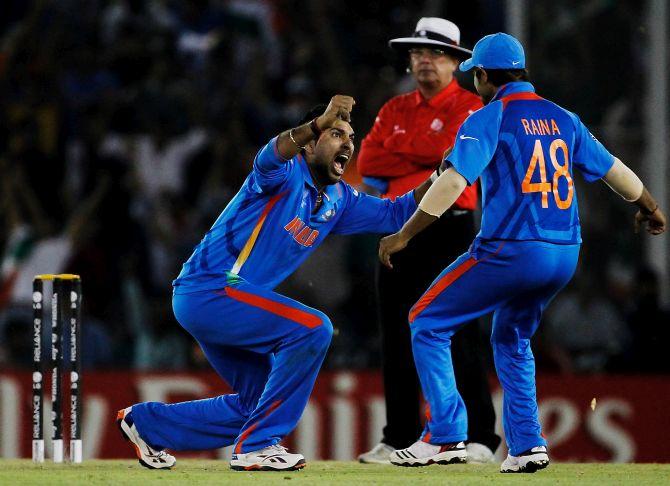 Yuvraj Singh celebrates with Suresh Raina after picking up a wicket. Photograph: Daniel Berehulak/Getty Images
But no one was really surprised when he played that astonishing innings of 58 (16 balls, 3 fours, 7 sixes) against England, and smashed fast bowler Stuart Broad for 6 sixes in one over, at Kingsmead, Durban, South Africa, in the inaugural ICC World Twenty20, which India won, in 2007.
Former Pakistan opener and captain Hanif Mohammad, who was awestruck by the Indian's tour de force, paid him the ultimate compliment when he stated that he thought Sobers, not Yuvraj, was batting. "I'm a great fan of Sobers and Yuvraj's style is similar to his," said the Pakistani.
Yuvraj was, of course, one of the architects of India's triumph in the World Cup on the subcontinent in 2011. Though principally a batsman who does not get to bowl often, he shone as an all-rounder, scoring breezy, timely half-centuries and dealing a couple of vital blows with his left-arm orthodox spin bowling pretty consistently.
An impressive tally of 362 runs, 15 wickets, four Man of the Match awards and, to cap it all, the biggest of 'em all, the Player of the Tournament was what this dark horse of the World Cup went home with.
The left-hander has long carved a special niche for himself and created his own identity in limited-overs' cricket. Whether it is one-day or Twenty20 cricket, you could depend on this delightful striker of the ball.
There is apparently such an effortless brilliance to his shots that you do not realise he has actually played a shot till the ball goes to the fielder or reaches the boundary. With his ability for improvisation and penchant for belting the ball and scoring quicker runs in the death overs, he built a reputation as one of the finest finishers in the game.
If encouraged and used judiciously, he can still be a handy bowler in the shorter versions of the game, as he demonstrated in the World Cup four years ago.
And what can one say about his fielding? It has always been outstanding regardless of his frequent bouts of injuries.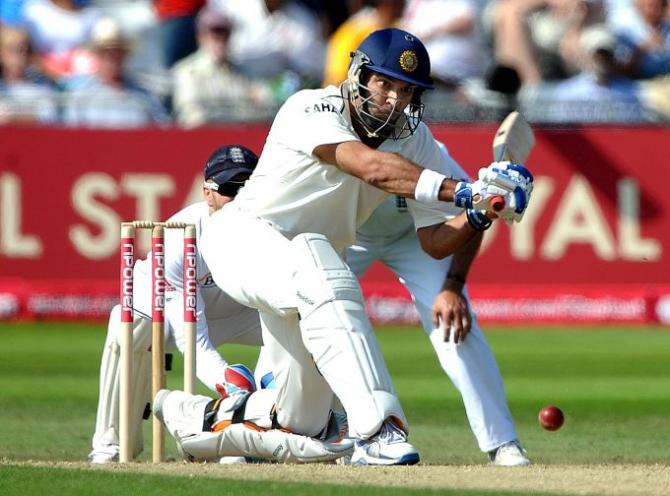 Yuvraj Singh. Photograph: Laurence Griffiths/Getty Images
Many bits-and-pieces players were seen in action in the recent World Cup in Australia and New Zealand. Yuvraj does not fit into this category. Nor is he a genuine all-rounder. But, in many ways, he is a poor man's Sobers in limited-overs cricket.
Like Suresh Raina, another Indian batsman branded as a limited-overs' specialist, Yuvraj has never had a regular place in the Test team. Or rather, he hasn't been able to cement his place despite getting a fair amount of opportunities.
For all his grace and willowy wizardry, Yuvraj has certain alleged shortcomings in his technique. Though he relishes express pace, he appears to be a bit vulnerable against moving, seaming and even prodigiously spinning balls.
This slight drawback or weakness gets cleverly concealed in limited-overs' cricket, where there are many restrictions on bowlers; but smart speedsters and spinners easily detect it in Test matches and they persistently play on it.
Of course, the same Yuvraj, when in his element, can play regally irrespective of his vulnerability as he has proved on several occasions. But such moments are few and far between and Yuvraj has had a chequered Test career.
He is 33, an age when highly talented batsmen usually attain full maturity, appears to be fit and, as he himself says, "in good shape". Irrespective of India's seeming good performance in the just-concluded World Cup, it is clear that the team badly needs an all-rounder like him.
Yuvraj, who has a thing or two to prove, if not a score to settle, is in a good, unenviable position.