Do you know? The Indian Premier League is in its eighth season, but some records from the inaugural edition, in 2008, are yet to be broken.
The eighth edition of the Indian Premier League has already witnessed a slew of records. Like Yuvraj Singh being bought by Delhi Daredevils for a whopping Rs 16 crore, defending champions Kolkata Knight Riders going unbeaten for ten games, till they were halted in their stride by Royal Challengers Bangalore, and the Daredevils tasting victory after 11 defeats on the trot over two seasons.
Still in a fledgling state, the lucrative Twenty20 tournament has delivered the kind of slam-bang cricket expected of it.
As such, the cash-rich extravaganza has witnessed a flurry of records created and broken. However, amid all the obliterated landmarks, there are a few -- not necessarily enviable -- that still stand tall.
These were set in the inaugural edition in 2008.
Take a look.
Biggest win (by runs)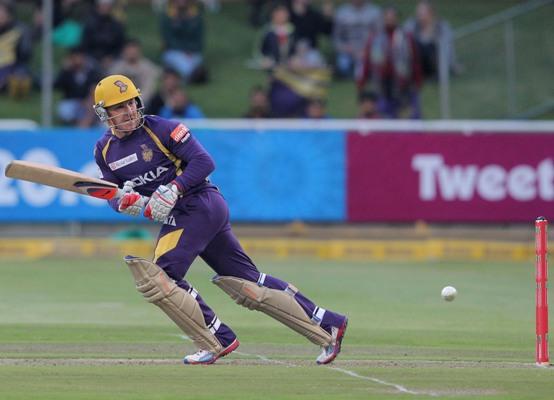 Brendon McCullum scored a whirlwind 158 not out for Kolkata Knight Riders.
This came about in what was the opening match of the competition per se.
A flamboyant unbeaten 158 by Brendon McCullum – a record that stood for five years till Chris Gayle scored 175 not out against the now-defunct Pune Warriors in 2013 – helped Kolkata Knight Riders pile up 223 for three at the Chinnaswamy stadium.
Royal Challengers Bangalore could muster only 82 (in 15.1 overs) in reply, and lost the match by 140 runs.
Best bowling figures in an innings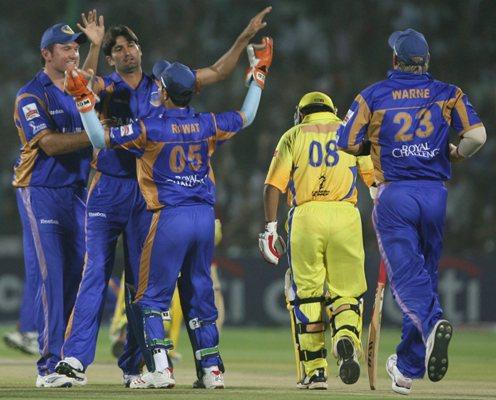 Sohail Tanvir is congratulated by his Rajasthan Royals' teammates.
For starters, Sohail Tanvir won the Purple Cap – awarded to the bowler with most wickets in the competition – in the inaugural edition. His 22 wickets played a crucial role in Rajasthan Royals' unexpected triumph.
The Pakistani bowler's best performance came in the league clash with eventual finalists Chennai Super Kings.
On a somewhat favourable track at the Sawai Mansingh stadium, Tanvir had figures of six for 14 in his four overs. The effort helped Rajasthan skittle out Chennai for a modest 109, before winning – by eight wickets – with 34 balls remaining.
As we head into the eighth season of the tournament, Tanvir's record is yet to be broken.
Highest-ever chase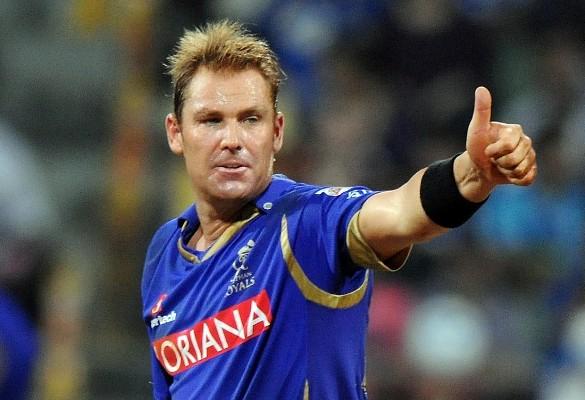 Former Rajasthan Royals' captain Shane Warne.
Yet another milestone for Rajasthan Royals in that memorable inaugural season.
In the league game against the now defunct Deccan Chargers in Hyderabad, Shane Warne and Co had to dig deep to win.
A 53-ball 117 not out by Andrew Symonds helped the Chargers total a formidable 214 for five.
Undaunted, Graeme Smith (71 off 45 balls) and Yusuf Pathan (61 off 28 balls) added 98 for the second wicket to lay the foundation for Rajasthan.
However, it was left to their skipper to finish off things. Warne scored an unbeaten 22, off just nine balls, sealing a three-wicket win with successive sixes, ironically off Symonds.
Most extras in an innings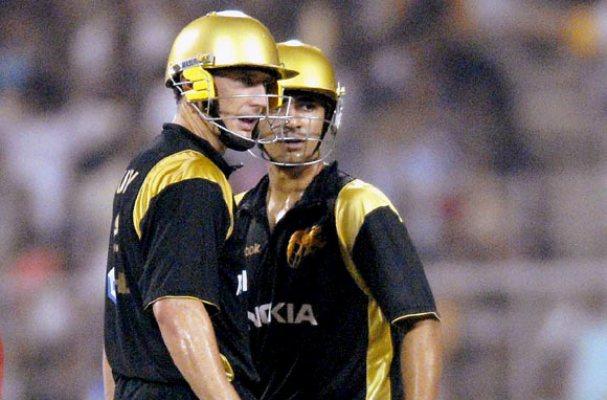 Only David Hussey managed more than the extras as Kolkata Knight Riders scampered home.
Having scored an empathic win over Royal Challengers Bangalore in the opening match of the competition, Kolkata Knight Riders were impressive in their second match as well.
A polished bowling performance at the Eden Gardens restricted the Deccan Chargers to 110.
Thereafter, KKR benefitted from the generosity of the visiting team. The Chargers conceded 28 extras to make things easier for their hosts, on what was a difficult wicket.
In fact, after David Hussey's 38 not out, extras were the second highest contributor to KKR's five-wicket win!
Biggest win (by balls left)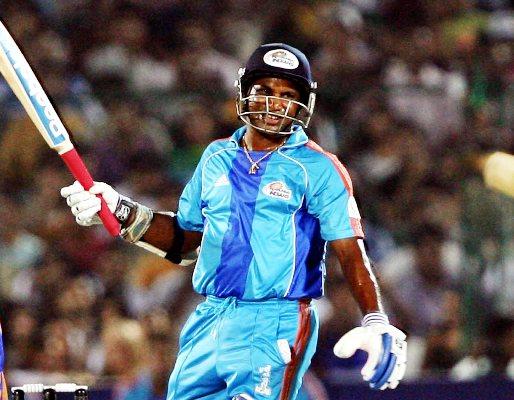 Sanath Jayasuriya ensured a comfortable win for Mumbai Indians.
On this occasion, the Kolkata Knight Riders were at the receiving end.
After winning their opening two matches, their campaign surprisingly went off track and they could only finish sixth.
One of their biggest lows was at the Wankhede stadium. Shaun Pollock took three wickets (3-12) as Mumbai Indians bowled out the visitors for a paltry 67.
Despite losing Sachin Tendulkar for naught, a whirlwind 17-ball 48 not out by Sanath Jayasuriya ensured the hosts reached their target in just 5.3 overs, winning with 87 balls to spare.
Photographs: BCCI