- 'I don't like being compared to Virender Sehwag or any other player because Sehwag is a true legend and he shouldn't be compared to anyone.'
- 'Playing against Dale Steyn was the highlight of the IPL for me. I hit him for a boundary through the covers; that shot was my favourite.'
Twenty-year-old Shreyas Iyer, who had a dream debut in the Indian Premier League, tells Harish Kotian/Rediff.com how a successful showing in the Ranji Trophy helped boost his confidence.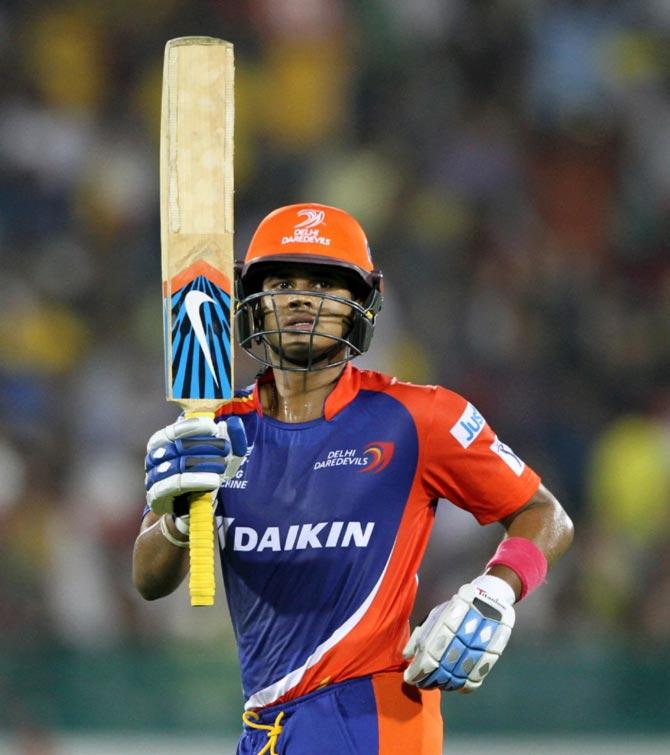 Shreyas Iyer of Delhi Daredevils. Photograph: BCCI
Delhi Daredevils could not make it past the league stage, but Shreyas Iyer, their young opener, made a name for himself in the eighth edition of the Indian Premier League.
The 20-year-old, who was bought for a massive Rs. 2.6 crore at the IPL Players' Auction, proved to be worth every penny.
The right-hander, playing in his first season in the IPL, finished with a huge tally of 439 runs from 14 matches, which included four half-centuries.
Interestingly, he is the only batsman yet to play international cricket to attain the 400-run mark this IPL season.
This is a golden year for Iyer, whose success began with a debut for Mumbai in the Ranji Trophy. He went on to be one of Mumbai's leading scorers in the tournament, aggregating 809 runs, at an average of 50. That was followed by 273 runs in the Vijay Hazare Trophy One-Day tournament, and his purple patch continued in the IPL.
In an exclusive conversation with Harish Kotian/Rediff.com, Iyer discusses his successful IPL debut and the experience of playing under former India coach Gary Kirsten.
You were picked by Delhi Daredevils for a huge Rs 2.6 crore, the highest price for an uncapped player in the tournament. Were you happy to have repaid the faith shown in you with a good performance with the bat?
To be honest, there was no pressure at all, regardless of the price. I didn't keep that in my mind when I went out to bat. I only looked to score against the international pace bowlers and that was only the way I could repay them for showing faith in me.
Scoring 439 runs in 14 IPL matches must be satisfying, especially considering that your team didn't do that well in IPL 8.
The way I started the tournament I didn't think then that I would get so many runs. But after playing the second match, in which I got 40-odd runs, I made sure to totally capitalise on the chances I got and make the best possible use of every opportunity.
To be honest, Delhi Daredevils played really well this season. We couldn't convert a few close matches into wins, and that was the only reason we could not achieve our targets. All the players in the squad supported me throughout the tournament and I never felt any pressure at any stage.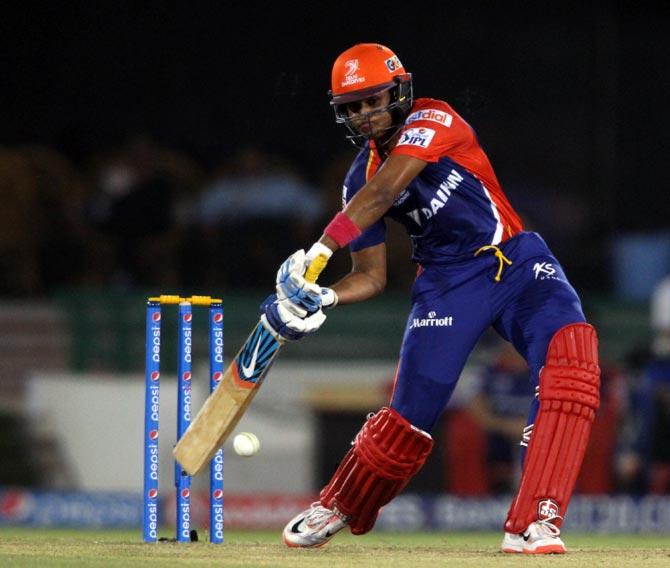 Shreyas Iyer of Delhi Daredevils hits out. Photograph: BCCI
Your strike rate (128) through the IPL was pretty good. Did you make a conscious effort to bat positively?
I just go there and play each ball on its merit. I don't plan out on how to bat. I never used to play predetermined shots. But there used to be pressure on me sometimes when I played a few dot balls and the number of deliveries I faced were more than the runs scored. But then, I knew that I needed just two balls to make up for it and I had the confidence in me to do that. So, keeping that in mind, I just kept on playing.
Did performing well for Mumbai in the Ranji Trophy boost your confidence ahead of the IPL?
It did help in boosting my confidence because it was my first season in the Ranji Trophy, and scoring so many runs for a team like Mumbai is a great achievement. It also helped me develop my temperament for the bigger stage.
You didn't have a good start to your Ranji Trophy career, getting out cheaply in both innings against Jammu & Kashmir, a match Mumbai lost. But you played a brilliant innings of 75 against Uttar Pradesh and followed it up with an attacking century against Bengal. Were those two innings the turning points of your career?
Yes, obviously. The innings against UP was the turning point I would say because it was a pressure situation. If we would have lost that match we would have been knocked out of the tournament; so that was really a good time to perform.
The domestic season was a perfect one for you. You were Mumbai's highest run-getter in the Ranji Trophy and also played a big role in helping the side become West Zone champions in the domestic One-day tournament
The way I started in the One-dayers was really good. I scored a fifty in my first match and in the fourth game, which was a do-or-die one for our team, I scored an unbeaten century to win it. It was a really good feeling to score some runs and take the team to the knock-out stage.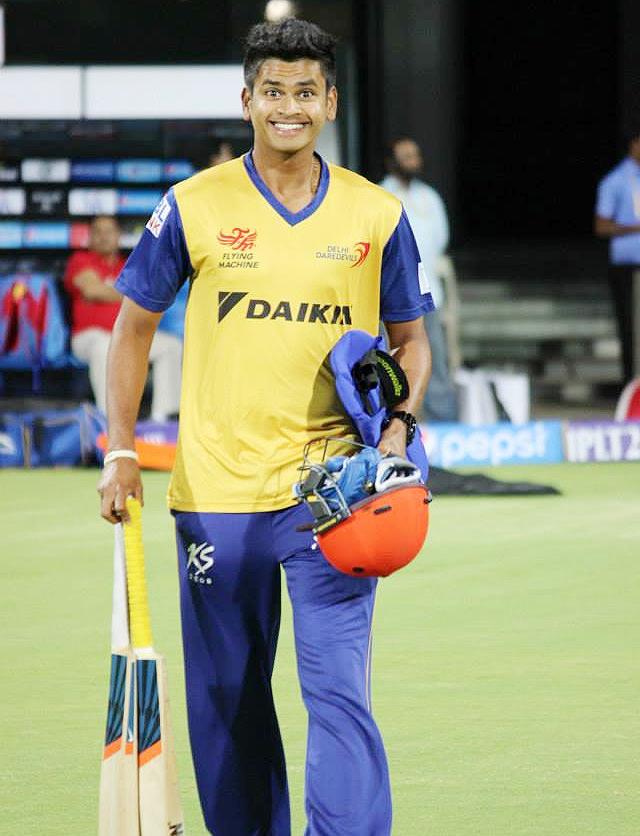 Delhi Daredevils' Shreyas Iyer before a nets session. Photograph: Delhi Daredevils/Facebook
You became a huge hit after your good showing in the IPL and got more recognition than you did during the Ranji Trophy. How important is a big stage like the IPL for a young cricketer?
If you get a chance you definitely have to grab it with both hands. If you don't perform well you have regrets.
So it's better to perform well and have no regrets later on.
But I still have some regrets that I could not score a hundred in the IPL, which I wanted to.
It is a really big platform the youngsters. It helps to develop young players and give them the much-needed experience of playing against top international players whom they could only dream of playing against or with.
So, it is a really good platform to learn for the young players.
What was the highlight for you in your debut IPL season?
I think playing against Dale Steyn was the highlight of the IPL for me. It was my dream to play against him and when I faced him it was like a dream come true for me. I hit him for a boundary through the covers; that shot was my favourite!
Pravin Amre, who is helping you with your batting since a long time, was with you at Delhi Daredevils. Did that help you settle down in your first season in the IPL?
It was really good of him to get me into the Delhi Daredevils' team. He knew I had the ability to score big runs and he always had the confidence in me. He has been working with me since my Ranji Trophy days, so he knows a lot about me and my batting.
He is literally like the backbone for me.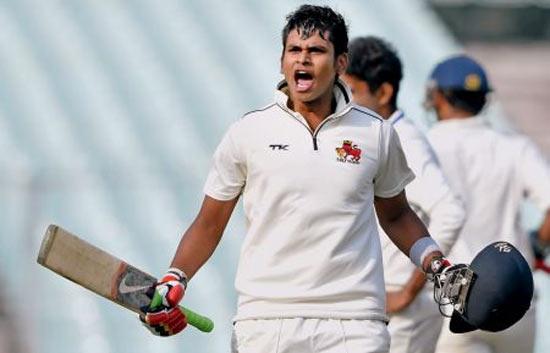 Shreyas Iyer celebrates after completing a century for Mumbai in the Ranji Trophy. Photograph: PTI
How was it working with Gary Kirsten, who won the World Cup in 2011 with the Indian team?
It is always good to learn from all the good coaches and especially from someone who has won the World Cup. He gives total freedom to all the players in the team and even the youngsters. He supports a lot and backs each and every player in the squad.
Batting against top bowlers like Zaheer Khan, Imran Tahir, Nathan Coulter-Nile and Angelo Mathews in the nets during your IPL stint must have been a great learning experience?
At the start of the season we had a few practice sessions where I played against those bowlers and I felt really good to have batted against them. Before that I could never imagine that I could play against them so easily, but after facing them I said to myself, 'it was not that bad, I could also play against them easily'.
You are also referred to as Virender Sehwag by your friends because you also like to dominate the bowlers. Was Sehwag your inspiration growing up?
No, not at all. I don't have any. I only love to watch AB de Villiers bat.
I don't like being compared to Virender Sehwag or any other player, because Sehwag is a true legend and he shouldn't be compared to anyone.
You batted at No. 3 for Mumbai in domestic cricket with a lot of success and then opened for Delhi in IPL 8. Which is your preferred batting position?
I would say No. 3 is a really good position to bat at, but I would say wherever I get to bat, I am ready for it. Whenever you get a chance you should capitalise on it.
It is common knowledge that the second season is always tough because after a first successful season the teams start to analyse your batting and try to find your weakness. You will need to work harder in the next season.
I heard that from a lot of people and I only want to tell them that I am going to prove this thing wrong.
I will be working really hard on my technique and also on my fitness, which will improve me overall and also my cricket.
I want to work hard and take my game to the next level.