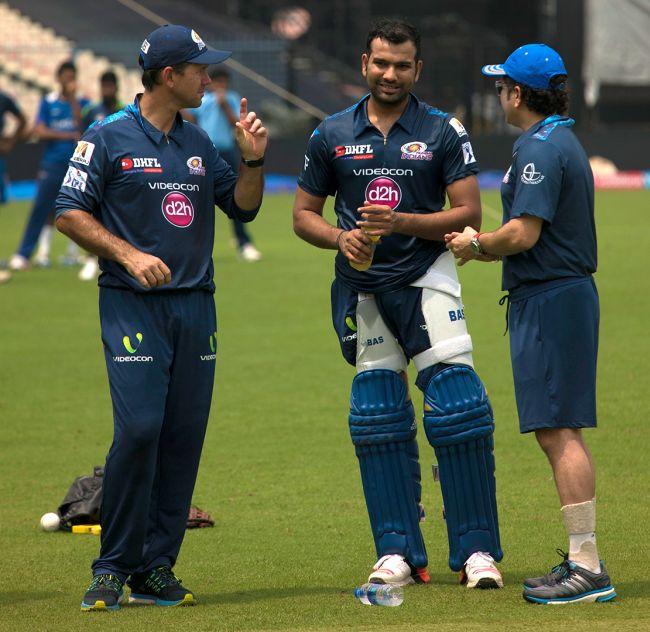 (From left) Mumbai Indians coach Ricky Ponting, skipper Rohit Sharma and Sachin Tendulkar during a practice session. Photograph: Dylan Martinez/Reuters
Kolkata Knight Riders may have the home advantage going into the openng game against Mumbai Indians, but it's the rival skipper Rohit Sharma, who oozed confidence, terming that his team feels equally at home, having won their maiden Indian Premier League title at this venue two years ago.
"We have always felt confident here. If you look at the records, we have done really well here," Rohit told reporters on the eve of their IPL opener against KKR.
"First game of the season is very crucial so we have start well whether we bat or bowl first."
Playing down talks about the Knight Riders preparing slow pitches to suit their needs, Rohit said it's "fair" for the hosts to make a suitable wicket for themselves.
"I see no reason why a team should not use the home advantage. KKR are doing the same and play according to their strength, which is fair I guess. When you're away from home all odds will be against you," said Rohit.
'You don't break records everyday'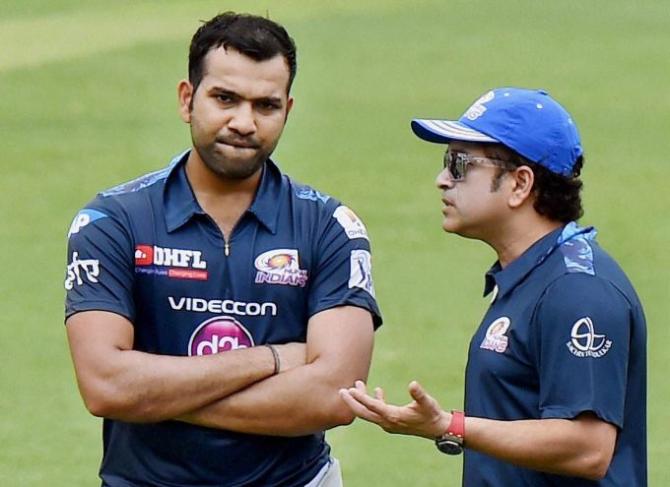 Mumbai Indians skipper Rohit Sharma speaks with Sachin Tendulkar in a training session. Photograph: PTI
Stressing on the importance of starting on a winning note, Rohit said, "It's a long tournament, you always have a chance to come back but it's not easy, so it's important to start well and take the momentum forward.
"It gives you a lot of confidence and you can build on your strengths."
Rohit, who holds an ODI world record of scoring 264 runs in his last appearance, said he would like to stay in the present and not think much about his feat.
"You don't break records everyday. That innings will remain in my mind definitely. It will give me confidence. But it's April now, it's a long time. I would like to stay in present. I will take that confidence into the game. I know the conditions here really well," he insisted.
'Narine will want to prove a point'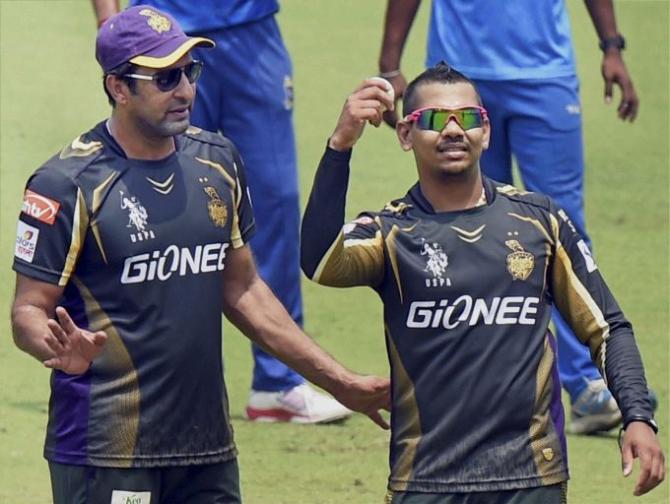 Kolkata Knight Riders' bowling coach Wasim Akram along with Sunil Narine. Photograph: PTI
On Knight Riders' mystery spinner Sunil Narine, who is back with a remodelled action, Rohit pointed out that he would bowl only four overs in a 20-over match.
"He has got the clearance and will want to prove a point. But it's not just him. There will be 16 more overs that will be bowled to us. That will be equally crucial. We have to look at their overall bowling unit, which looks very good. We will focus on the entire bowling unit rather than just one person."
Rohit said it is not only Narine, but KKR's utility Indian recruits have had their share of success.
"They contribute as a team. Their Indian domestic players have got a fair bit of idea on how to bat in each wicket. Their domestic players did well last season. They also bat deep. But I think we have to focus on our strengths. Planning is important but it's more important to execute on the field," Rohit pointed out.
'Important to maintain proper balance'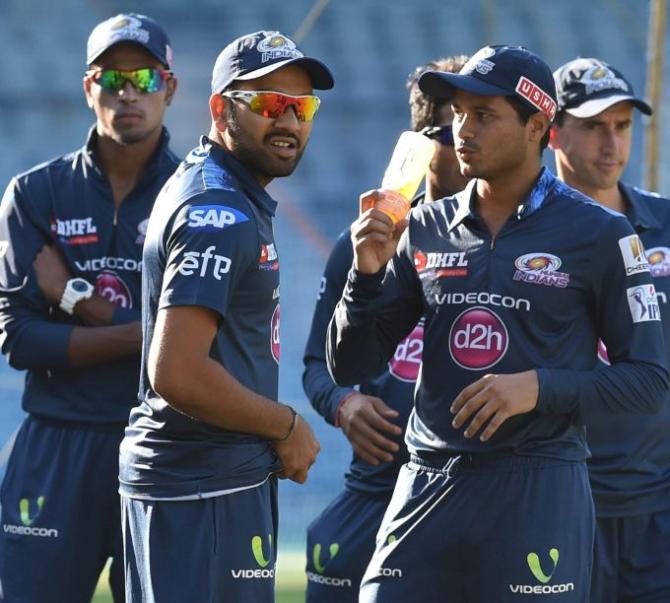 Mumbai Indian skipper Rohit Sharma in a training session. Photograph: PTI
Aggressive captaincy may be the mantra post World Cup, but Rohit said he would react according to the situation.
"I would like to stick to my strength. I've been leading this side for last two years now, and had a fair bit of success. But yes, when there's a need I will be aggressive.
"It is important to maintain proper balance that you don't lose your calm in the middle. I will try and do what's best for the team," said Rohit.