'We had them (reeling) at 40 for 4. We should have won the game from there, but we didn't pick up wickets'
'Good for me, good for the team but the important thing is to win. If you don't get two points it's a waste'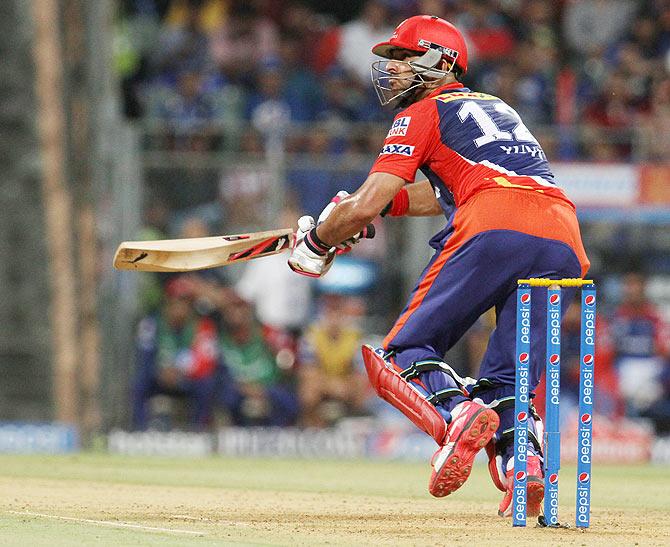 Yuvraj Singh. BCCI
After rediscovering his form with a stroke-filled half century, Yuvraj Singh rued that his team Delhi Daredevils could not deliver the knock-out blow on the Mumbai Indians despite reducing the hosts to 40 for 4 and lost the crucial IPL cricket game.
- Mumbai Indians make it four in a row to jump to fourth
- PHOTOS: Reunion of India's 2011 World Cup-winning stars at IPL
"We had them (reeling) at 40 for 4. We should have won the game from there, but we didn't pick up wickets," said Yuvraj at the post-match presser after MI won by five wickets with three balls to spare at the Wankhede Stadium in Mumbai on Tuesday.
"I think after the rain came, the dew set in and the wicket got better. There was no spin. I think it worked to their advantage. No doubt they played well. But from 40 for 4, you should win games from there," he added.
Yuvraj complimented rival skipper Rohit Sharma and Ambati Rayudu for the manner in which they guided MI from the rut and took them close to the winning target of 153.
"I think Rohit and Rayudu played very well. The wicket was gripping a bit at the start but because dew came in, the ball was coming on nicely to the bat," he said.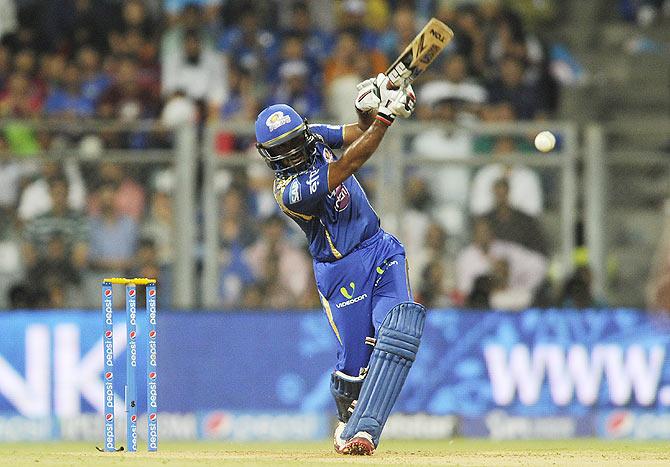 Ambati Rayudu of Mumbai Indians. Photograph: BCCI
"If there was no rain and we got a bit of turn, may be the result could have been different. But to be fair to MI, they played well under pressure from 40-4. Rohit and Rayudu took it to the end," said Yuvraj.
Yuvraj, who made 57 off 44 balls -- only his second half century this season, said he got some time to get his eye in after his side lost early wickets, but rued it all went to waste as the
Daredevils lost their sixth game out of ten and have only a very slim chance of going into the play-offs.
"T20 is a small format and is tough for batsmen batting at 4-5. You have to go and start hitting from the first ball. Today I got some time as we lost some wickets and I could bat till the end," said Yuvraj, whose previous highest of 54 was scored against his old team Kings XI Punjab at Pune.
"Good for me, good for the team but the important thing is to win. If you don't get two points it's a waste."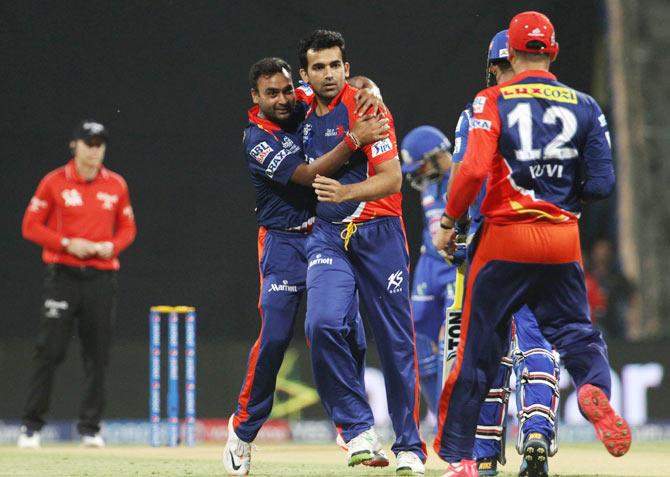 Delhi Daredevils' Zaheer Khan celebrates the wicket of Mumbai Indians' Lendl Simmons. Photograph: BCCI
Yuvraj did not agree with the suggestion that the home team would have won on a canter had rain not interrupted MI's run-chase twice.
"160 was a winning target, 150 could have gone either way. I don't think so (that MI could have won on a canter but for the rain). I think we bowled well, picked wickets. Anyway, batsmen go on the attack in the first 6 overs. They were going for the shots and we picked wickets," Yuvraj pointed out.
Asked if the Daredevils could qualify from this difficult situation, Yuvraj said: "We got four games. It's going to be tough, but is not impossible. Last year KKR won 6-7 games in a row to qualify for the last four and then went on to win the tournament. Anything is possible in cricket."
Asked if he has silenced critics with his 44-ball knock, Yuvraj said he does not have the time to read criticisms.
"My job is to play cricket, critics' job is to write. I don't read what comes out. I don't have that much time in my life at the moment. I try and stick to my job and you guys stick to your job," he said.