Outplayed by Rohit Sharma's unbeaten century, Kolkata Knight Riders skipper Gautam Gambhir today hoped that people would stop criticising the wicket at Eden Gardens as Mumbai Indians' batsman dominated with ease that laid the platform for their 27-run win in the IPL, in Kolkata.
"Getting a hundred on this wicket is very special. I am sure people would stop asking me about the wicket. The way he batted was tremendous. All credit goes him to him," Gambhir said about Sharma's 60-ball 109 not out.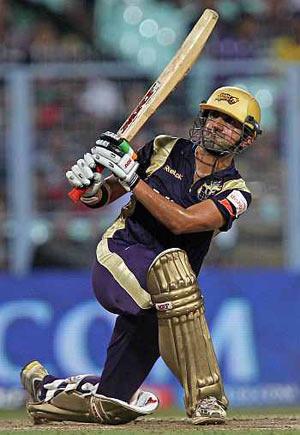 "It would be an understatement to term it an excellent innings. It was far better than what I can express. A lot of credit goes to Rohit. (Along with Herschelle Gibbs) he built their partnership and took the game away from us."
Gambhir said the task became difficult once the Mumbai Indians crossed the 160-mark.
"We always felt it was a good wicket. But 180 was a very good total. We were thinking of restricting them to 150-160."
Mumbai Indians notched up an imposing 182 for one in the stipulated 20 overs to hand Kolkata Knight Riders a thrashing that ended the home team's six-match winning streak.
"I've always said most of the teams are equally balanced. It answers a lot of questions as well. You cannot take any team lightly. Any individual can take the game way. You have to be always on your toes."
KKR's wrecker-in-chief Sunil Narine returned wicketless for 28 runs in his four overs but Gambhir was not worried.
Asked whether his bowling mystery is solved finally, Gambhir said: "Do you think one game makes mystery solved. One game does not make any difference. Who said he was a mystery bowler? We need to look the overall picture."
Stressing on the positives, Gambhir hoped to return to winning ways with three matches remaining in the league phase.
"We still can take lot of positives with three more games remaining.. It was important for (Yusuf) Pathan to get some runs under his belt. Someone needs to play as a finisher and he has been doing this job for us," Gambhir said.
Gambhir said they were not thinking too much ahead and their focus is on the next game against Chennai Super Kings on Monday.
"I don't look too much forward. At this point, we are thinking about the Chennai game. Hopefully we can do well which we have been doing."
Gambhir said there was no major worry about Brendon McCullum who had to sit out today because of a finger injury.
"We never wanted to risk him. He should be ready for the next game."
About Sachin Tendulkar's felicitation, Gambhir said: "He deserves every bit of it for what Sachin has done for India. CAB has done a fantasitc job (in felicitating him).
© Copyright 2022 PTI. All rights reserved. Republication or redistribution of PTI content, including by framing or similar means, is expressly prohibited without the prior written consent.