The Mumbai Cricket Association, which imposed a five-year ban on Shah Rukh Khan, is likely to discuss the apology rendered by the Bollywood superstar, at Chennai on Sunday night, for his misbehaviour at the Wankhede Stadium, Mumbai, on May 16.
- I apologise for my misbehaviour at MCA, says Shah Rukh
- 'Drunk' Shah Rukh abuses, attacks MCA officials at Wankhede
An MCA source maintained that the principal owner of new IPL champions Kolkata Knight Riders did not apologise directly to the association, but pointed out that at least the actor conceded that he had not behaved properly.
"He has not apologised to the MCA, has he? Anyway, he had at least admitted he has not behaved in a proper manner. There is a managing committee meeting (of MCA) this [Monday] evening, to be headed by president Vilasrao Deshmukh. Let's see what happens in it," the source added.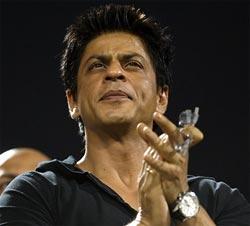 Surrounded by his wife, daughter and other kids, the Bollywood superstar said after KKR's maiden IPL triumph in Chennai, "I want to apologise to the kids for my misbehaviour at MCA. I apologise to all who saw me differently. I shouldn't have behaved in that manner. But today my team has won, so I guess, all you fans should forgive me. We have won at last."
Earlier, the "unanimous" decision to ban Khan was taken at the MCA managing committee meeting on May 18 to discuss action on the actor who was involved in a skirmish with the security and officials of the association after KKR's victory over Mumbai Indians at the Wankhede on May 16.
'We have handed a five-year ban on him and it was a unanimous decision. It applies to any match whether domestic or international at the Wankhede,' MCA chief Deshmukh had said.
- Five years on... Knights vindicate King Khan's faith
'If rules are violated, action will be taken. It does not depend who the individual is. It's a message to everyone whosoever he or she may be that stern action will be taken if there is any misbehaviour.
'There were a lot of MCA officials present at the time of fracas. Nothing more was needed to prove that he (Khan) misbehaved. The Assistant Commissioner of Police himself was present and he said Khan was drunk,' the MCA president and Union Minister had said.
Asked if there is still a chance of the ban being reconsidered, Deshmukh had replied, 'There is no question of that. Khan did not make any representation to us, nor apologise. He could also have filed a police complaint but he did not do that.'
Khan, however, denied, at another media conference, that he misbehaved, and said he acted only after children, including his kids, were "manhandled" by the security staff.
In the wake of the MCA's decision to ban Khan, IPL chairman Rajiv Shukla said that a final decision will be taken by the BCCI.
'State bodies can only recommend but a final decision has to be taken by the BCCI. When the matter comes to BCCI, the Board will decide (on the ban),' he told reporters in New Delhi soon after the decision to ban Khan was announced by the MCA in Mumbai.