Chennai Super Kings skipper Mahendra Singh Dhoni says Sunil Narine is a difficult customer to read and he is well aware of the threat the mystery spinner could pose when they meet Kolkata Knight Riders in the Indian Premier League final in Chennai on Sunday.
"With his action, it is difficult to catch him as to which side he is bowling whether it is the one that comes in to a right hander or it goes out," Dhoni said on Saturday.
Narine has bamboozled batsmen with his trickery this season, and was a key figure in KKR's march to the final of the tournament.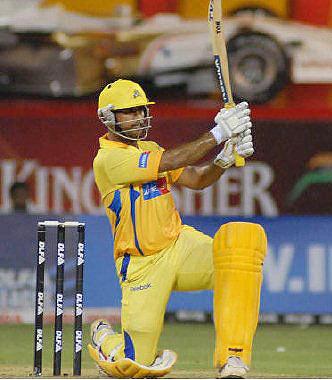 "The variation he has got and the consistency that he has got in maintaining line and length has been crucial. We have seen that consistency from a bowler has always paid dividends."
Dhoni felt the West Indian has got all the traits to be a successful bowler in this form of the game.
"If you have both consistency and line and length and got the variations, the bowler will be successful more often than not in this format since the batsmen look to take you on. That is the time such bowlers try and get their wickets."
The India captain, who is aiming for a hat-trick of titles with CSK, lauded Murali Vijay's match-winning ton against Delhi Daredevils, but said he needed to train himself in a way through which he can express himself more on the field.
"I advised him to go to the nets and express himself and if you do not bat the way you have been we will not back you. He responded very well. He took the few sessions in the right stride and got back to his usual rhythm.
"Vijay is a very talented cricketer. When he started for us, he did not do really well and in between we gave him rest for quite a few games. We told him that we want Murali Vijay to bat and we do not want any other batsmen to start for us.
"The kind of cricket he has been playing for us, he has been successful. He has got the right talent that is needed to be successful at this level. He was not himself and it was our main concern."
According to Dhoni, KKR's Gautam Gambhir is an expressive captain.
"Gautam is very expressive on the field. Even when the match is in his pocket, he demands the individuals to perform and wrap the game in the best possible manner. That is where his strength lies. He has done really well with the Kolkata Knight Riders.
"Gautam is an aggressive captain, a bit different from me in the sense that if you see our side, we are aggressive but not expressive on the field. That has been the strength of Chennai Super Kings."
Talking further about captaincy, Dhoni said, "I think how good a captain you are depends on what resources you have and how individuals react to the scenario under pressure. There are few players who will react in different way and few will get bogged down.
"I think as a captain what is important is that he has to channelise the resources in possibly right direction for the desired result."
Dhoni said the final will be another opportunity for the players to leave their imprint.
"Well, it is another opportunity for someone to be a hero. That is what I look at. 11 guys are on the field and one of them from either side has the opportunity to raise his hand and be counted to be a hero. So, tomorrow somebody will be a hero from our side or Kolkata side and you can watch."
According to Dhoni, the outcome of the match will largely depend on how the individuals adapt to the conditions.
"Result is something you get depending on what you do in those 3-3-1/2 hours of play and how individuals adopt to the conditions. It will be about what kind of cricket you play on the field and the kind of potential you have got.
"That will be the key notes and it will be a high pressure scenario. Tomorrow being the final, there will be added pressure on each and every individual. How individuals react to the situations will be the key for success."
Dhoni said that it's important to use the resources in a way that doesn't require them to change their natural game.
"The emphasis is on the players going and enjoying the game and expressing themselves. It is important to use them in a way where they don't really need to change their natural game plan. They need to stick to what they know best and use the resources in the right way, at the right time.
"You know that has really worked for us. Individuals have also stepped up whenever we needed those couple of big performances in crucial games in the bowling or batting department. Overall, if you see our fielding has improved.
"Right from the first edition, we are constantly working on fielding. That department is very crucial. I can say cutting 5 to 10 runs in the format and in the last over it will have a big impact in the game. Now we are proud of the fact that we are a very good fielding side."
R Ashwin had said in Bangalore that was ready to go for a holiday before CSK roared back just in time to book a last-minute final berth, and told about that, Dhoni said he also felt alike when faced with a similar situation.
"That is exactly what I did also because in a key match there was a situation in Australia we could have moved to the finals but it did not work our way and a similar situation was there in the Asia Cup and it also did not go our way.
"Just sitting and watching it to go our way do not really help us. We try to enjoy each and every game. We had the similar mindset and it worked in our way and we opened our bags and reached Chennai from Bangalore."
Asked if there is any particular strategy for the final, he said, "The planning and strategy are the same. Whatever the reason may be, we could not execute our plans but in the playoff matches we have done quite well in all the three departments."