A marauding Chris Gayle, who fashioned Royal Challengers Bangalore to a thumping 21-run win over Delhi Daredevils in an IPL match on Thursday, said that it was the body balance which was important in his six-hitting exhibition at the Ferozshah Kotla.
"The secret behind those sixes was good balance and it helps to have a pitch where the ball comes up to the bat. Hope I continue like this in the tournament," Gayle, who hit an unbeaten 128 with the help of 13 sixes and seven fours in his 62-ball knock, said. 
Asked about any particular change in his batting, he said he decided not to move around much.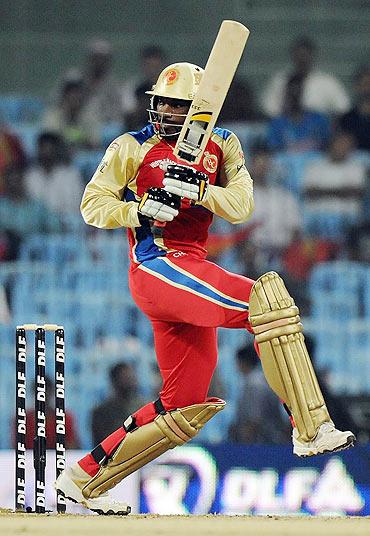 "It's natural, trying not to move around. A couple of innings have me moving around which did not help. Thanks to Virat Kohli for his support at the other end," he said. 
He also said that he wanted to preserve his wicket and stay longer for the sake of the team. 
"Maiden over is okay, as long as I am there till the end. If I stay longer it helps to get the runs for the team, " he added. 
Reminded that the world record maximum number of sixes in a Twenty20 match is 16, Gayle joked, "Somebody should have told me that and I should have gone for it." 
RCB captain Virat Kohli praised Gayle for his explosive innings. 
"It was exciting game of cricket, good pitch to bat on. Batting with Chris is a wonderful experience, lot of them could have taken my head off at the non-striker's end," he said. 
"We need to win the last game to make it to the play-offs," he said.
Daredevils skipper Mahela Jayawardene sought to draw the positives from the loss, saying that his side played good cricket. 
"We played well and can take a lot of positives from the match. We have played enough Twenty20 cricket to realise this kind of loss happens and we need to just try and improve from here," said Jayawardene. 
Asked about Gayle's innings which took the game away from the Daredevils, Jayawardene said, "He is in tremendous form, especially on a small ground like this. It was always going to be difficult to contain him. 
"Still we could have chase it down. Unfortunately we could not." 
On some key players not playing today, he said, "Morne was the only player rested, Viru was sick, we needed to give Andre Russell a chance."