Laxmipathy Balaji credited Jacques Kallis and Brett Lee for their bowling performances, which he thought, helped him in picking up four wickets and lead Kolkata Knight Riders to a win over Royal Challengers Bangalore in an Indian Premier League match in Bangalore on Tuesday.
"One should give credit to Kallis and Lee for starting the game plan well. Kallis, in fact, got us the initial breakthrough helping our team in getting momentum ... that really helped my rhythm to pick four wickets," he said.
Balaji said Tuesday's win was a huge psychological boost for KKR.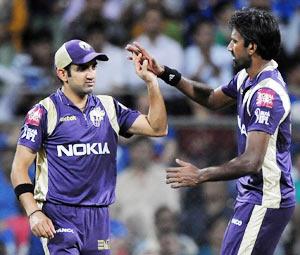 "Every win in the IPL makes you to believe in yourself.
As long as momentum and positive attitude keeps going you have to make sure that things come into your pocket. This win was a must for us and definitely it is a good start," he added.
However, he believed they cannot take others easy as all nine teams have tremendous balance.
"Last stages of the league matches definitely there will be some surprises. You cannot take any team easy. The tournament will be alive for six weeks," he said.
Balaji said KKR bowling coach Wasim Akram and Australian pacer Lee were great influences on the entire attack.
"These two (Lee and Wasim) really mean to our bowling lineup. They share lot of things that they have come up with and that kind of helping hands motivate every young player in the team," he said.
Asked if Akram has passed on any tricks, Balaji said the former pacer has influenced him in the last two years.
When asked if the middle-order collapse in today's match was a concern for the team, Balaji said everyone in the dressing room have talent, but success lies in delivering and executing plans 100 percent.
"If we keep doing this, definitely, results will take care on its own," he said.
Meanwhile, RCB skipper Daniel Vettori also credited Lee, Kallis and Balaji for their bowling. He also said losing far too many wickets within six overs cost them the game.