Kings XI Punjab skipper Adam Gilchrist has said that it is a matter of concern that an intruder managed to get close to the players during their IPL match against Kolkata Knight Riders on Wednesday night in Mohali.
The Australian said he does not want to see a repeat of the incident.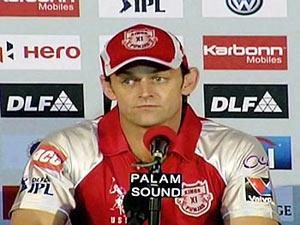 "You are always concerned when you get pitch invasions in any sport. Terrible things happen when someone runs like that towards the players and you just can never be sure at that stage what's going to happen," Gilchrist said.
In a breach of security, there was an invasion into the PCA ground by a person who not only managed to get inside when the match was on, but also managed to throw some papers before being taken out.
Asked how the players reacted when the intruder ran freely for about a couple of minutes holding up the play, Gilchrist said, "We were concerned. It's a concern. I hope the ground security will ensure it doesn't happen again. It's a shame, it's one fool trying to run it for lot of people."
KKR's medium pacer Rajat Bhatia while reacting to the incident said, "It must be in that guy's mind to come in and get the picture for the next days newspaper, I can only say that."
A PCA official said that they had taken the incident seriously and asked the police and their own security to be more vigilant.
A fan who was sitting on the terrace block said the intruder could have hurt any player the way he was going around unstoppable.
The incident occurred when English pacer Dimitri Mascarenhas was starting to bowl the 16th over of the innings when KKR were batting.
As Mascarenhas, who plays for Punjab, was about to bowl, a fan ran from the pavilion side on to the ground.
He was wearing black coat, a black trouser and a white shirt and kept throwing some papers on the ground and then walked to the crease where Mascarenhas was standing.
Later, he was whisked away by the private security staff inside the ground.
The incident raised eyebrows as heavy Punjab police was present to guard the stadium, both inside and outside and private security also remains present in heavy numbers.